Minder dan 1 op 2 burn-out patiënten keert terug naar de oude werkplek vanaf 3 maanden afwezigheid door burn-out. De helft van de mensen verliest dus door zijn burn-out zijn job. Dat stemt tot nadenken, zegt loopbaanbegeleider Michel Piedfort. Zeker als je weet dat de oorzaak van die burn-out vaak niets met vaktechnische competenties te maken heeft.
Het aantal mensen die terugkeren naar hun job, zakt zelfs naar amper 20% bij een afwezigheid vanaf 1 jaar en 10% bij een afwezigheid van 2 jaar. De cijfers komen van het ACV. In deze cijfers gaat het om langdurig zieken, exclusief beroepsziektes en arbeidsongevallen. Burn-out en werk, de vooruitzichten zijn niet goed als men niets doet.
Logisch dat dokters je binnen de 3 maanden aan het werk willen
Met deze cijfers in het achterhoofd is het volkomen logisch dat dokters hun patiënten zoveel mogelijk aanmoedigen om snel opnieuw aan het werk te gaan. Ook zij weten dat de kans op een terugkeer naar het werk groot is als de ziekteperiode kort is.
In de eerste weken weet de werkgever vaak niet wat er aan de hand is. Het werk is tijdelijk herverdeeld. Bij langere afwezigheid wordt men vervangen door iemand anders. Hoewel een terugkeer wettelijk gezien kan, wordt ze minder evident naarmate de ziekteperiode toeneemt.
Burn-out & werk: Wil je wel terug naar een job die je ziek maakte?
"De vraag is of je echt nog wel terug wil naar een job waar je zo ziek van werd", zegt loopbaanbegeleider Michel Piedfort. "Als je maanden thuis hebt gezeten met burn-out begin je echt wel na te denken over je leven.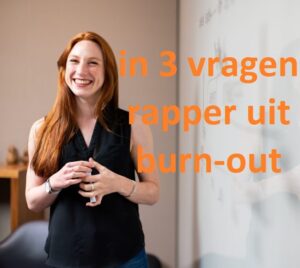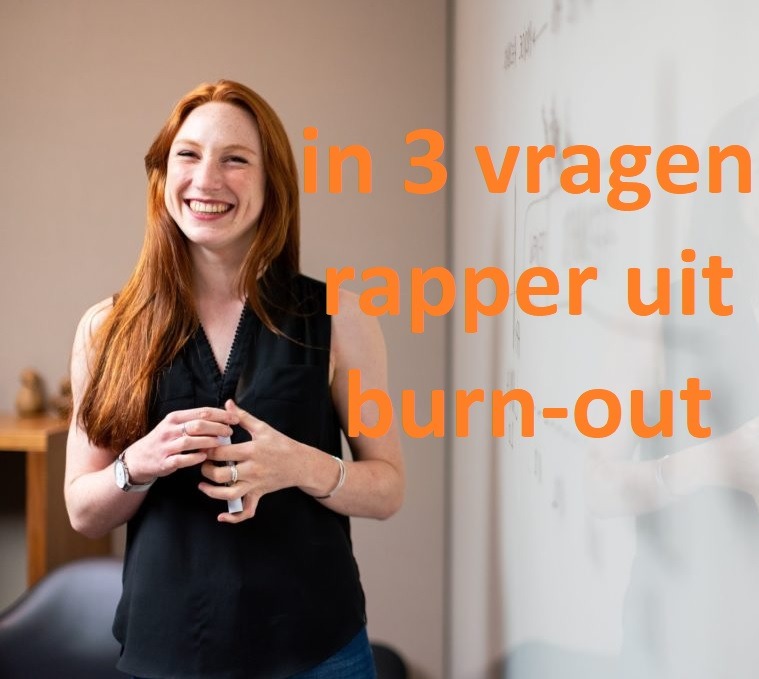 Velen komen tot de conclusie dat de job die tot dan deden of het bedrijf waarvoor ze werken, onvoldoende aansluit bij wie ze zijn. Daarom dat heel veel burn-out patiënten echt niet meer naar hun vorige werkgever terug willen.
Als minder dan de helft naar zijn oude job terugkeert, betekent geenszins dat het initiatief tot ontslag altijd bij de werkgever ligt. Ook de werknemers met een burn-out zijn vaak vragende partij om het bedrijf te verlaten. Het ontslag om medische redenen geeft hen dan de gelegenheid om hun contract op te zeggen zonder dat men zijn opzegperiode hoeft te presteren.
Een burn-out heeft zo'n grote impact op het denken en voelen van een mens dat de meeste mensen na hun burn-out anders gaan leven. Ze gaan andere prioriteiten stellen en staan sterker in hun schoenen. Het is dan ook logisch dat bij dat anders gaan leven een job in het oude vertrouwde kader ziekmakende kader niet meer past.
Rapper uit je burn-out
Net omdat een burn-out er zo diep inhakt en men vaak de indruk heeft dat alles zo traag verloopt, heeft Algida het programma opgesteld rapper uit je burn-out. Dankzij deze methode, ga je positieve trends sneller zien en ervaren. Tegelijk wordt er gewerkt aan je valkuilen op het werkvlak om een nieuwe burn-out te voorkomen. Tenslotte kijken we wat voor jou wel mogelijk eens als werkhervatting na burn-out? Ga je terug naar je oude job of kies je toch voor iets anders?
Nadenken over je mogelijkheden met steun van de overheid
Met het systeem van de loopbaancheque van de Vlaamse overheid, krijg je tot 7 uur persoonlijke begeleiding. Er wordt dan nagegaan onder welke voorwaarden jij een job wel kunt volhouden, hoe deze job er voor jou uit ziet en waar je die vindt.
Omdat Algida.be aangesloten is bij erkende loopbaancentra van VDAB, kunnen zij loopbaancheques aanvaarden. Je eigen bijdrage is voor de eerste 4 uur 40 euro die je rechtstreeks aan VDAB betaalt. Vraag hierover meer info.
Welke job past beter bij jou na burn-out? Je weet het met begeleiding
Online begeleiding
Burn-out klachten verdrijven

Voor werknemers vanaf 7 jaar ervaring

Je woont of werkt in Vlaanderen

Data in onderling overleg

Start na ontvangst loopbaancheque