Ben je klaar voor werken na burn-out?
Doe hier de sneltest van burn-out coach Michel Piedfort
Klaar om terug te gaan? Ja of neen?
Neen? Wil je rapper klaar zijn, contacteer me dan en ontdek mijn aanpak
ja maar ben je nog onzeker over wat zeggen of hoe zeggen? Heb je schrik voor burn-out herval? Ook dan help ik je graag. Contacteer me voor meer info.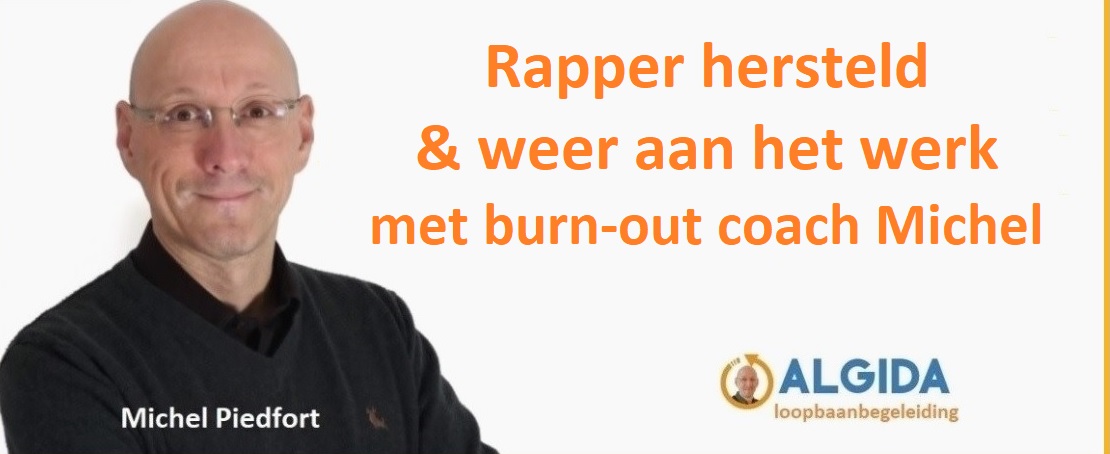 Rapper hersteld & weer aan het werk met burn-outcoach Michel
de coach met de meeste 5 sterren op Google Review
Wanneer burn-outcoach Michel om hulp vragen?
Ondanks rusten, blijf je moe. Hij helpt je hier overheen
Je piekert en wil oplossingen
Je wil ontslag geven & stempelen maar weet niet hoe
De stress stijgt als je naar de arts moet voor de verlenging van je doktersbriefje. Bij mij hoor je hoe je hem makkelijker overtuigt.
Hoe solliciteren zodat die burn-out geen nadeel is?
Je wil niet hervallen maar weet onvoldoende wat je kunt doen waardoor je onzeker blijft
Welke job of bedrijf past beter bij jou?
Ontdek Michels aanpak door een gratis telefonisch gesprek te vragen. In 20 minuten hoor je wat bij jou helpt en hoe je daar komt.
We nemen eerst met je contact op om een afspraak in te plannen
Referenties
Burn-outcoach Michel Piedfort heeft artikels in jobat en heeft de meeste 5 sterren op Google Review en gemiddelde score van 4.8 op 5
Wie is burn-outcoach Michel Piedfort
Wat mij vooral opvalt in de afgelopen 7 jaar is dat iedereen, maar écht iedereen, bij burn-out veel meer mogelijkheden heeft waar men nog nooit aan gedacht heeft als men tijd maakt voor een babbel met mij.
Dit komt door mijn uitgebreide kennis van burn-out en sociale wetgeving, mijn 25 jaar ervaring in het bedrijfsleven én inzicht in jouw mogelijkheden.
Dit betekent dat iedereen na elke sessie resultaat heeft omdat men dan al kan zeggen wat men gaat doen om zijn burn-out aan te pakken en er zo minder last van te hebben zodanig dat het zelfvertrouwen groeit waardoor het goed komt.
Ook jij kunt geholpen worden. Boek daarom meteen je gratis en vrijblijvend gesprek van 30 minuten met Michel want met Michel lukt het wel.
Tot snel.
Michel Piedfort
Waarom is burn-out herstel traag?
Burn-out is het gevolg van langdurig opgekropte irritaties. Wanneer je thuis geschreven bent door de arts is het goed dat je weg bent van een ziekmakende omgeving.
Tegelijk krijg je door burn-out enorm veel stress bovenop: ik wil er van af, hoe kan dat nu, op het werk kunnen ze niet zonder mij, zal de dokter blijven schrijven, hoe lang duurt het nog...?
Als deze ergernissen zijn als kleine steentjes die je emmer blijvend doen overlopen. Het is daarom enorm belangrijk dat je een antwoord vindt op je ergernissen en ook ontdekt waar je energie en rust van krijgt. Pas dan geraak jij er bovenop. Een burn-outpreventieplan helpt je omdat je jouw dieperliggende oorzaken van burn-out afvinkt en zo werkpunten bij jezelf ontdekt. Doe ook regelmatig een burn-outtest om je evolutie te zien.
Ik help je bij dit herstelproces uit burn-out via begeleiding.
Erkend door deze VDAB loopbaancentra
Binnen het kader van werkbaar werk en werkhervatting na burn-out is Michel aangesloten bij de erkende loopbaancentra van VDAB zoals ACV Puls en Invia coaching waardoor hij loopbaancheques kan aanvaarden . Michel werkt zowel online via beeldbellen als face to face te Rijkevorsel.