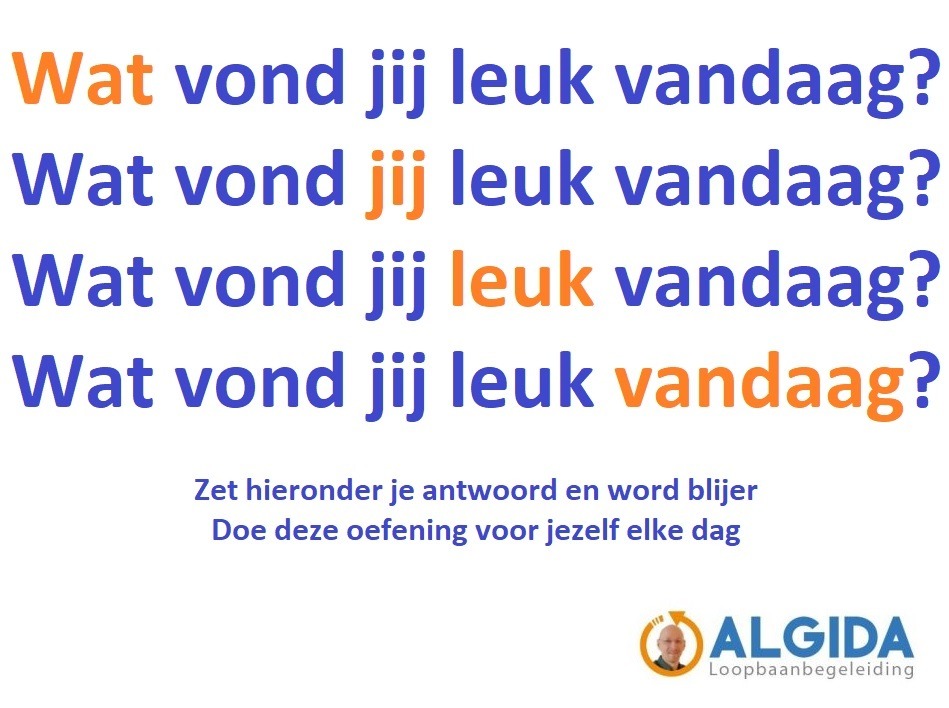 Wat vond jij leuk vandaag, deze vraag stellen we ons te weinig. Dat zegt loopbaanbegeleider Michel Piedfort. Door elke dag de vraag te stellen wat jij leuk vindt en ze ook te beantwoorden, sta je stil bij het positieve in je leven. Je wordt daar oprecht gelukkiger van.
Sta stil bij de wat, jij, leuk en vandaag.
Waarom neerschrijven?
Als je het antwoord neerschrijft, verplicht je jezelf om de chaos in je hoofd te ordenen, verwoorden, samen te vatten en op te schrijven. Door het opschrijven op zich ga je het ook opnieuw inprenten en onthou je het langer.
Je kunt hiervoor bijvoorbeeld een dagboekje of apart schriftje bijhouden. Vermeld ook de datum waarop jij de notitie hebt gemaakt.
Waarom het positieve zoeken via wat vond jij leuk vandaag ?
Meestal staan we vooral stil bij wat niet goed gaat. Door uitdrukkelijk naar het positieve te zoeken, gaan we dit ook beter onthouden waardoor de herinneringen levendig blijven. Ook al zijn het op het eerste zich kleine dingen. Deze kleine dingen lijken achteraf groots te zijn.
Wie dit een tijd doet, zal merken dat men hier oprecht gelukkiger van wordt en energie van krijgt. Deze oefening is een toepassing op 'alles wat aandacht krijg groeit', met andere woorden: door hier elke dag een paar minuten tijd voor te maken, maak je dit in je hoofd ook groter (dan het is).
Deel je antwoord
Je kent ongetwijfeld het spreekwoord: gedeelde vreugd is dubbele vreugd. Deel daarom jouw mooie momenten met de betrokken personen.
Dit kan zowel op het werk als in je privé zijn. Je zal merken dat mensen rondom jou meer naar je toekomen omdat je net positief ingesteld bent. Dit komt omdat positieve verhalen anderen ook goedgezind of blij maken. Met andere woorden: jij straalt energie uit.
 Voordelen
Door dagelijks naar het positieve in je leven te zoeken, ga je hier ook bewuster mee omgaan waardoor je voor jezelf ontdekt wat je blij maakt, wat je graag doet en waar je energie van krijgt. Deze drie vragen worden zo na verloop van tijd zeer concreet zodat je tijdens sollicitaties perfect een positieve indruk kunt achterlaten zonder dat je lang naar antwoorden hoeft te zoeken.
Hulp bij positiever worden via 'wat vond ik leuk vandaag'
De slogan van Algida is 'maak werk opnieuw plezant in plaats van irritant'. Tijdens onze begeleidingen zetten we dan ook volop in op wat jij leuk vindt op het werk via extra oefeningen, testen en gesprekken waardoor jij de antwoorden gewoon sneller vindt.
Wat vond jij leuk vandaag
Wat kan ik goed, doe ik graag, wat vind ik belangrijk

Waar wil ik naar toe & hoe doe ik dat

Voor werknemers met 7 jaar ervaring

4 uur online begeleiding voor €40

3 online sessies, 1 per week of 2 sessies in Rijkevorsel

Data in onderling overleg