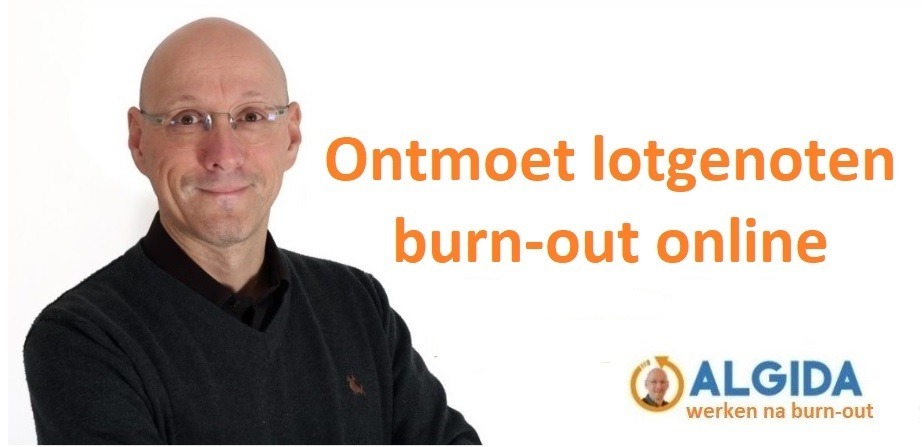 Ontmoet lotgenoten burn-out online
Prijs: gratis
Inhoud: we spreken over wat ons  bezighoudt en hoe we hiermee omgaan. Je mag kiezen wat je zegt en hoe je deelneemt.
Hoe: online via beeldbellen
Ben je nieuw: we doen dan eerst een telefonisch gesprek als kennismaking
Waarom deelnemen:
je ervaart dat jij niet de enige bent
je hoort van anderen hoe zij burn-out verwerken wat je kracht geeft
het doet deugd om lotgenoten te ontmoeten
je vindt geruststelling en hulp bij verwerking
Data:
dinsdag 9 mei van 12u tot 12u30
dinsdag 16 mei van 12u tot 12u30
Zelfhulp werkt enorm omdat mensen verbondenheid voelen door ervaringen uit te kunnen wisselen. Daarom ondersteunt de KU-Leuven al jaren zelfhulpgroepen rond algemene en psychische gezondheid.
Iedereen is welkom, ook al is het maar voor 1 keer. Je mag zo vaak komen als je zelf wil. Deze zelfhulpgroep is heel laagdrempelig omdat we niets van je verwachten. Je mag gewoon komen luisteren of actief deelnemen aan de gesprekken.
Waarom een online groep voor burn-out lotgenoten
Wie in burn-out zit, heeft minder energie. Verplaatsingen doen met de auto of het openbaar vervoer is daarom niet altijd mogelijk. De online groep heeft ook korte sessies.
Wie coördineert deze lotgenoten groep voor burn-out mensen?
De coördinator van deze online groep voor burn-out lotgenoten is Michel Piedfort. Hij begeleidt al meer dan 7 jaar mensen met burn-out. Michel had 25 jaar geleden een burn-out toen hij in Brussel voor een grote multinational werkte. De werkdruk was zo hoog dat het hem helemaal leeg zoog.
Omdat hij zowel werkgever, leidinggevende als werknemer is geweest heeft hij een brede kijk op burn-out en de preventie er van. Vandaag is hij aangesloten bij VDAB erkende loopbaancentra voor begeleiding als je daarna opnieuw aan het werk gaat.