Ligt burn-out deels bij jezelf? Met dit burn-out preventieplan weet je het zeker en weet je ook wat te doen om uit burn-out te blijven
Ik ben Michel Piedfort en help al meer dan 6 jaar bij werkhervatting na burn-out, heb 10 jaar ervaring in de geestelijke gezondheidszorg en 25 jaar in het bedrijfsleven.
Omdat ik nergens een goed burn-out preventieplan vond, heb ik er voor jou een gemaakt op basis van jarenlange ervaring met burn-out patiënten. Ik gebruik het zelf bij al mijn coachees waardoor ze al na 1 sessie resultaat hebben.
Hoe lang zit jij al in burn-out? Enkele weken, enkele maanden? Hoe zou het voelen als je op enkele uren weet hoe jij echt uit je burn-out geraakt?
Wat krijg je dankzij dit burn-out preventieplan?
Je vindt een antwoord op de vraag waarom je in burn-out geraakt bent en hoe je er uit komt. Tijdens de online gesprekken krijg je daarom ook heel wat technieken mee. Hoe doe je dat concreet 'grenzen trekken', 'neen zeggen', 'jezelf eerst zetten', 'zeggen wat je denkt zonder grofgebekt te zijn, zonder schuldgevoelens te krijgen of schrik te moeten hebben voor verwijten'.
Daarom onderzoekt dit burn-out preventieplan dat je in pdf krijgt via vragen en oefeningen:
Hoe diep je ziet via de burn-out test: van alle 50 mogelijke symptomen, welke zijn op jou van toepassing. Wedden dat er meer signalen waren dan je dacht?
Wie/wat is de oorzaak van je burn-out. Wat zijn de externe factoren?
Ligt de oorzaak deels bij jezelf? Zelfs al komt je burn-out maar voor 1% door wie je bent, dan is dit zeer hoopvol omdat je hier zelf iets aan kunt doen. Onderzoek daarom ook:

de manier waarop jij werkt (functioneringstest)
hoe jij in het leven staat (levenswiel, wat is je roze bril, je moetens, je vanzelfsprekendheden, ...)
je karakter of persoonlijkheid (in welke mate ben je perfectionistisch)
je communicatie (begrijpt men jou wel want slechts 10% wordt onthouden) en hoe kun je dit aanpassen?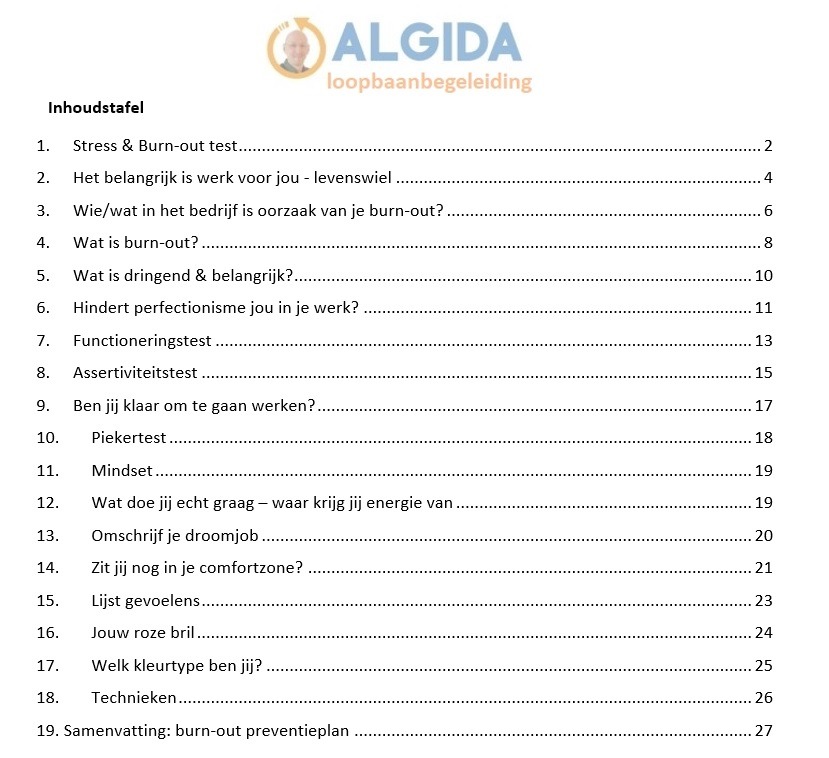 Wat geeft dit burn-out preventieplan je?
Technieken die je direct inzet om rapper uit burn-out te komen en te blijven.
Beter luisteren naar je lichaam zodat je weet welke klachten burn-out gerelateerd. Wedden dat je vandaag nog meer burn-out klachten hebt dan je denkt.
Een totaalbeeld van hoe je functioneert, communiceert of perfectionistisch je bent. Dit zijn alle dingen die we onterecht denken te moeten doen om een goede werknemer te zijn.
Meer energie omdat je de focus legt op wat jij wil in plaats van alles op te kroppen.
Extra zelfvertrouwen omdat je de valkuilen meteen ziet en dus vermijdt.
Rust in je hoofd want je piekert niet meer.
Eindelijk jezelf durven zijn omdat je weet dat je geen verwijten krijgt of schuldig voelt.
Een gezonder leven zonder lichamelijke klachten.
Geen last meer van stress zelfs al is werkdruk of een deadline. Het raakt je niet meer.
Geen schrik meer voor burn-out herval
Zo krijg je dit burn-out preventieplan
Stort het bedrag op rekening BE27 9794 2589 5073 van Algida onder vermelding van bopp + je naam en mailadres (vervang @ door at). Tarieven zijn inclusief btw.
Na ontvangst van je betaling, krijg je het burn-outpreventieplan in pdf.
We spreken daarna de online coaching data af.
Je kunt ook je loopbaancheque inzetten. Je betaalt dan €40 aan VDAB/Edendred en krijgt 4 uur persoonlijke online begeleiding
| | | |
| --- | --- | --- |
| burn-out preventie plan + online coaching | Prijs | Promo tot 15/2 |
| + 0 uur | € 80 | € 40 |
| + 1 uur coaching | € 160 | € 80 |
| + 2 uur coaching | € 240 | € 145 |
| + 3 uur coaching | € 320 | € 195 |
| + 4 uur coaching | € 400 | € 245 |
| Losse sessie per uur | € 80 | € 80 |