Anders gaan werken, minder fileleed, meer tijd voor jezelf. Er zijn 8 redenen waarom mensen thuiswerk doen, zo blijkt. Bij de ene persoon ligt de nadruk meer op vrije tijd, bij de andere persoon op vrijheid van werken. Want als er iets is wat thuiswerkers belangrijk vinden dan is het zelf kunnen bepalen waar, wanneer en hoe je werkt.
Files vermijden
Geef toe. Wie vandaag van Antwerpen naar Brussel gaat werken, kan bijna onmogelijk garanderen dat hij tijdig om 9 uur aan zijn bureau zit. Zeker als je met de auto rijdt.
De vraag is dan ook hoeveel is thuiswerk voor jou waard? Als je weet dat je elke dag 3 uur minder file hebt, ben je dan bereid om voor hetzelfde bedrag of iets minder euro's per maand thuiswerk te doen?
Meer tijd met gezin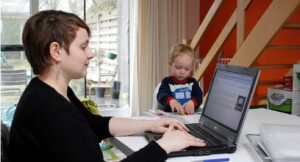 Geen verlies aan tijd van en naar het werk resulteert direct in meer tijd voor het gezin. En ook minder stress. Je hoeft 's morgens niet te haasten en 's avonds hoef je niet nagelbijtend naar huis. Je bent gewoon thuis als iedereen toekomt.
Anders werken
Thuiswerk staat ook voor anders werken. De relatie met je baas, werkgever of klanten wordt totaal anders. Er wordt meer gewerkt vanuit de resultaatgedachte (zolang het werk maar gedaan is) en minder vanuit de idee van uren presteren.
Betere werkbalans met privé
Uit onderzoek van Acerta blijkt dat thuiswerkers de beste werk en privé balans ervaren. Dit komt omdat zij doorgaans zelf kunnen bepalen wanneer en hoe ze werken.
Zo is er ruimte om overdag de kinderen van de school te halen, snel even een winkel binnen te springen of een andere kleine boodschap te doen.
Je eigen ding kunnen doen
Thuiswerkers kiezen er meestal voor om de regie van hun loopbaan in eigen handen te nemen. Zij kiezen bewust wanneer, waar en hoe ze werken. Ze willen niet afwachten tot ze van hun baas een promotie krijgen op hun droomjob, neen, zij maken zelf hun droomjob.
Van je hobby je beroep maken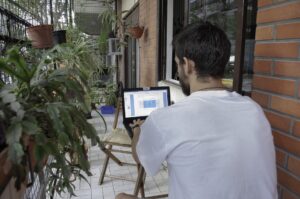 Van thuiswerkers hoor ik enorm vaak dat de dagen voorbij vliegen en dat zij hun job niet als werk ervaren. Zij doen gewoon graag waar ze geld mee verdienen. Het is geen moeite.
Een bijverdienste ontwikkelen
Bij een aantal mensen is thuiswerk bedoeld als een bijverdienste. Deze mensen willen tussen de 250 en 500 euro extra per maand verdienen. Dit bedrag is dan voor pure luxe uitgaven bedoeld: een extra vakantie, extra kledij, …
Eigen baas zijn
Wat thuiswerkers met elkaar gemeen hebben, is dat zij hun eigen baas willen zijn. Zij doen hun job met passie maar hoeven niemand die over hun schouders komt meekijken wanneer en hoe ze werken.
Andere redenen voor thuiswerk
Hoewel we allemaal wel eens van thuiswerk dromen, zijn er bijzonder weinig mensen die hun thuiswerkdroom naar de realiteit omzetten. Meestal komt dit omdat men onvoldoende zicht heeft op thuiswerk vacatures of thuiswerk functies. Daarom organiseert Algida regelmatig het webinar starten met thuiswerk: de functies om je een beter beeld te geven over de mogelijkheden van thuiswerk.