Je bent niet de enige die zich ergert op het werk. De meest voorkomende ergernissen op het werk beginnen al bij het vertrek van thuis uit, hebben te maken met de cultuur van het bedrijf, relaties met collega's of de jobinhoud.
De meest voorkomende ergernissen op het werk
1. De jobinhoud
2. Werkdruk
3. Vraag om flexibiliteit
4. Relatie met mijn baas
5. Relatie met collega
6. Gebrek aan veiligheid op het werk
7. Slecht materiaal om je werk uit te voeren
8. Slechte communicatie tussen collega's en leidinggevenden
9. Onduidelijkheid over te volgen procedures, waar het bedrijf voor staat, je eigen job, …
10. Het management
11. Het computersysteem
12. Leveranciers
13. Klanten
14. De organisatiecultuur
15. Werkuurregeling
16. Verlofregeling
17. Gebrek aan feedback
18. Gebrek aan waardering
19. Te veel/weinig overleg
20. Werk-privé-balans
21. Reistijd naar werk
22. Thuiswerken
23. Algemene sfeer
Hoeveel uur per week erger jij je?
Als je de ergernissen bekijkt, hoe veel minuten of uren per week erger jij je dan? En wat vind je hier zelf van?
Hoe uiten ergernissen zich bij jou?
We ergeren ons meer dan we denken. Daarom onderschatten we meestal onze ergertijd. Als we tijdens het werk hoofdpijn krijgen, ook dat betekent dat we ons aan iets ergerden.
Als we ergernissen echter negeren, weten we vaak na verloop van tijd niet meer waarom we ons ergeren en begrijpen we de link niet meer. Waarom heb ik nu spierpijn, waarom blijf ik zo moe, waarom raak ik meer en meer afgestompt op het werk, …
Enkele lichamelijke klachten kunnen zijn:
Niet herstellen na inspanning
Constant moe
Gespannen gevoel
Spier-, hoofd-, nek- of schouderpijn
Wakker liggen, piekeren, moeite in slaap vallen
Verminderde weerstand, sneller ziek
Hartklachten (druk, klopping, ritme)
Maag- of darmklachten
Bloeddruk- (te hoog of te laag)
Huidproblemen of haaruitval
Eetlust (te veel of te weinig)
Misselijkheid
Duizeligheid
Hyperventilatie of benauwdheid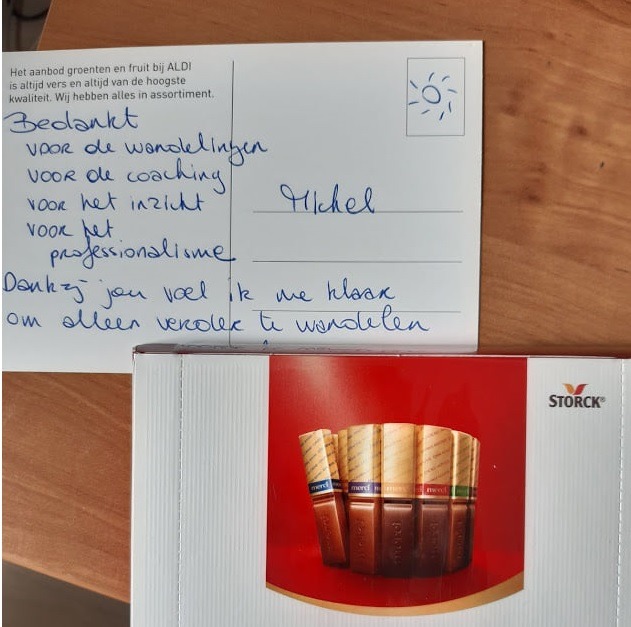 Ergernissen op het werk aanpakken
Loopbaanbegeleider Michel Piedfort van Algida raadt aan om ergernissen aan te pakken. Uit ervaring blijkt dat ze meestal blijven als je niets doet. Deze ergernissen leiden tot gepieker, een ongelukkig gevoel tot geen goesting meer hebben om te gaan werken.
Afhankelijk van het type ergernis, is er een andere aanpak. Met loopbaanbegeleiding helpen we mensen de beste manier te vinden voor elk van de problemen.
Dit kan gaan van een veranderende mindset, zelfvertrouwen vergroten, communicatievaardigheden aanscherpen, assertiever worden, jezelf zichtbaarder maken of meer neen durven zeggen.