Wie ouder is dan 30 vindt amper nog interessante jobs op VDAB of Vacature.com. Althans als je naar het aantal jaren gewenste jaren ervaring kijkt. Op de VDAB website zijn slechts 6% van de jobs voor mensen met minstens 5 jaar ervaring. Bij Vacature.com gaat het om 13% van de jobs.
Je kunt dit makkelijk checken op de websites zelf, zegt loopbaanbegeleider Michel Piedfort van Algida.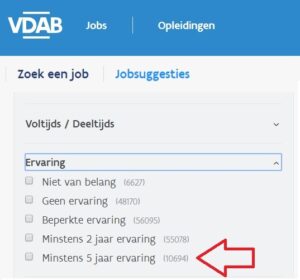 Klik op de homepage bij VDAB gewoon op zoeken zonder iets in te typen. In de linker kolom kun je daarna extra selecties maken zoals op functie, regio, voltijd/deeltijds en ervaring.
Bij VDAB.be zie je naast de gewenste ervaring ook het aantal jobs staan. Als je alle jobs optelt en het percentage berekent, dan merk je pas echt hoe weinig jobs er voor 30 plussers zijn.
De leeftijd staat niet vermeld maar als we op onze 24ste verjaardag beginnen werken en tellen er daarna 5 jaar bij, dan kom je aan 30 jaar.
In dit voorbeeld zijn er op VDAB.be in het totaal 176.000 jobs. Daarvan zijn er bijna 11.000 jobs voor mensen minstens 5 jaar ervaring. In percentage gaat het dan om 6 procent.
Recrutering verloopt anders bij 30 plussers
Toch zijn de jobs er. Het recruteringsproces voor mensen met ervaring werkt anders. Men vertrekt meer vanuit je eigen netwerk.
Je gaat daarom best tijdens je job al contacten leggen met andere bedrijven zodat men je op de hoogte houdt van nieuwe opportuniteiten. Dat kan perfect na de uren en ook online of offline.
Tijdens de loopbaanbegeleiding ontdek je hoe je HR managers vindt en hen (online) aanspreekt. Men begint al met contacten leggen vooraleer er een job is.
Jouw eigen netwerk is goud waard
Loopbaanbegeleider Michel Piedfort weet waarover hij spreekt. Ik was 40 toen ik zonder job viel. Ik had weinig professionele contacten en voelde me verloren.
Ik ben toen begonnen om mijn eigen netwerk in kaart te brengen, op te zoeken en te bewerken en vond uiteindelijk via deze weg mijn nieuwe job. Door anders te gaan solliciteren, kreeg ik ineens veel meer mogelijkheden. Ook jij kunt efficiënter solliciteren door jouw eigen netwerk in te schakelen. Wil je meer info over deze aanpak, contacteer Michel