De loopbaancheque kun je alleen aanvragen op VDAB.be/loopbaanbegeleiding
Surf daarom naar VDAB.be/loopbaanbegeleiding
en klik daarna op het gele vlak: loopbaancheque aanvragen.
Je kunt jezelf aanmelden via itsme of jezelf registreren/aanmelden. Ben je al ooit geregistreerd, dan kun je inloggen met je loginnaam of paswoord. Wie zijn paswoord vergeten is, kan dit opnieuw opvragen via mail.
Na inloggen kom je meteen op het scherm van loopbaancheque aanvragen. Je vinkt daar de algemene voorwaarden voor OK aan.
Je krijgt vervolgens een mail van VDAB/Edenred met een betaalverzoek van €40 voor je loopbaancheque.
Na registratie van je betaling krijg je een tweede mail met een pdf in bijlage. Deze pdf is de loopbaancheque. Je stuurt deze mail door naar Algida of overhandigt hem bij het eerste gesprek
Na registratie van je betaling krijg je de loopbaancheque via e-mail (meestal ook in je spambox)
Je stuurt deze mail door naar Algida of brengt hem mee bij de eerste sessie. Op de loopbaancheque staan 2 nummers. Deze 2 nummers geeft Algida in op de website van VDAB zodat VDAB weet dat jij voor Algida gekozen hebt.
De doorlooptijd tussen je aanvraag en de ontvangst van de loopbaancheque bedraagt tussen de 7 en 10 dagen als je de betaling meteen doorvoert.
Hoe ziet een loopbaancheque er uit?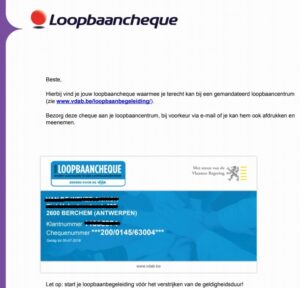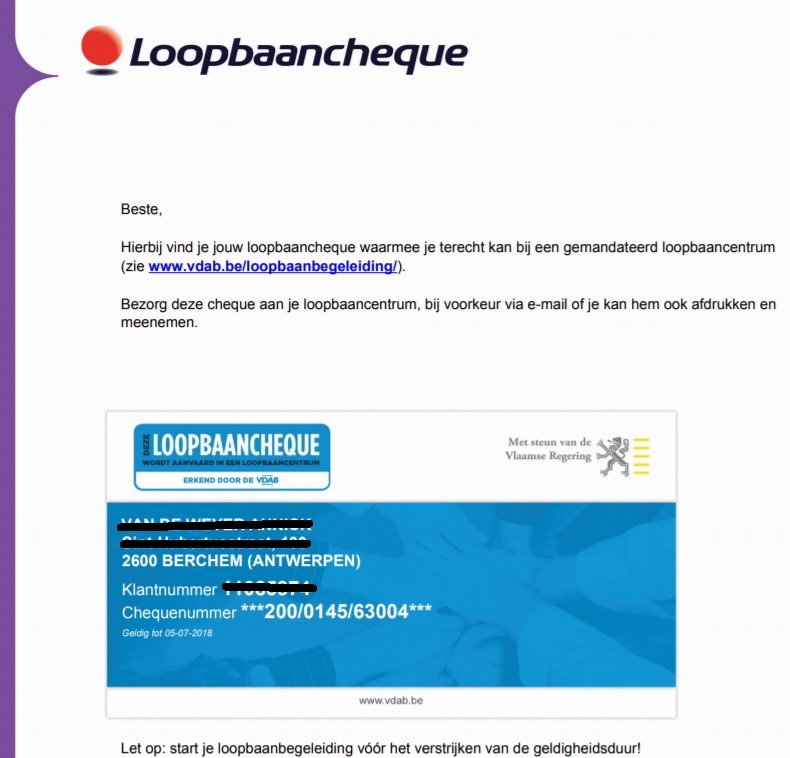 De loopbaancheque krijg je via e-mail toegestuurd en is een pdf-document.
Er staat Loopbaancheque op samen met een chequenummer en klantnummer.
VDAB verwittigt ons niet als jij de cheque hebt bestelt. Je neemt daarom best zo snel mogelijk contact op met Algida om een afspraak in te plannen.
Je stuurt de loopbaancheque door. Je loopbaanbegeleider geeft de chequenummer en klantnummer aan VDAB door zodat VDAB weet dat jij bij Algida loopbaanbegeleiding volgt.
Algida is aangesloten bij erkende coachingcentra
Alvorens loopbaanbegeleiders loopbaancheques mogen aanvaarden, moeten zij zich aansluiten bij een erkend loopbaancentrum.
Zo ben jij zeker van de kennis, vaardigheden en kwaliteiten van de loopbaanbegeleiders.
Algida is aangesloten bij de erkende loopbaancentra van ACV Puls en Invia.
Veel voorkomende fouten bij loopbaancheque aanvragen
Check ook je mail want de mails van VDAB komen meestal in je spambox terecht
Reageer op de mail binnen de 3 dagen omdat je aanvraag anders vervalt
Dubbelcheck bij VDAB of je betaling al verwerkt is zodat je zelf het proces kunt volgen. Als het langer dan een week duurt, dan is er iets fout gelopen
Start tijdig. Verwacht je ontslag, start dan minstens 8 weken op voorhand want van zodra je werkloos valt, kun je geen nieuwe cheque meer aanvragen
Neem op voorhand contact op met je loopbaanbegeleider zodat je wanneer je kunt starten.
Waarover mag loopbaanbegeleiding gaan?
In principe zijn alle begeleidingen ivm vragen over je loopbaan of carrière toegelaten. De meeste vragen gaan over:
werkbaar werk: naar een betere balans tussen werk en privé
relatie in de werkcontext: hoe kun je beter omgaan met collega's of leidinggevende
jobdoelwit: je wil iets anders maar weet nog niet precies wat
zingeving: je voelt je niet nuttig op het werk en je wil meer bijdragen
kwaliteit en reflectie: je wil meer waardering krijgen, meer zelfvertrouwen ervaren
motieven reflectie: je wil ontdekken wat jij nu echt belangrijk vindt
leiderschap: hoe word je een goede leider, is leiderschap iets voor jou, hoe begin je daar aan
groei en uitdaging: hoe word je persoonlijk sterker?
werken na een langdurige ziekte of burn-out
starten als freelancer/werknemer: is zelfstandige worden iets voor jou. Opnieuw werknemer worden, is dit ook iets voor mij?
Loopbaanbegeleiding ook voor zelfstandigen, vrije beroepen of zaakvoerders
Loopbaanbegeleiding is er voor iedereen die werkt, ook voor zelfstandigen, vrije beroepen of zaakvoerders. Ook zij vragen hun loopbaancheque aan bij VDAB.
Uit ervaring blijkt dat de loopbaanvragen gelijkaardig zijn dan bij werknemers. De invulling van het traject is echter wel anders
Voorwaarden loopbaanbegeleiding
Je bent werknemer, zelfstandige of op ziekenkas/invaliditeit maar nog wel verbonden aan een bedrijf met een arbeidsovereenkomst
Elke 7 jaar heb je recht op maximum 7 uur loopbaanbegeleiding gespreid over maximum 2 loopbaancheques (1 cheque van 4 uur en een cheque van 3 uur). Deze 7 jaar mag onderbroken werkervaring zijn
Woon je in het buitenland maar werk je voor een Vlaams bedrijf, ook dan kun je loopbaanbegeleiding volgen.
Krijg je geen reactie van VDAB ivm je aanvraag van de loopbaancheque?
Hoewel de site van VDAB vermeldt dat men binnen de 2 weken reageert, blijkt uit de praktijk dat 95% van de mensen hun eerste mail binnen de 3 dagen krijgen.
Heb je niets gehoord van VDAB, bel dan naar het gratis nummer 0800 30 700 Wellicht heeft men een foutief mailadres in het systeem en moet dit manueel aangepast worden.