Wanneer betaal je €40 voor 4 uur, €40 voor 3 uur, krijg je €40 terug of is de prijs €75 of €140 euro. Een overzicht van loopbaanbegeleiding prijs en voorwaarden.
Hoe loopbaancheque aanvragen?
Je kunt de loopbaancheque uitsluitend via de website van
VDAB.be
aanvragen. Volg de procedure en je krijgt de loopbaancheque binnen de 10 dagen via mail.
Surf naar www.vdab.be/loopbaanbegeleiding
Klik op het gele vlak
Log in met itsme of registreer
Na inloggen op de VDAB-website zie je direct de link of button loopbaancheque aanvragen.
Na je aanvraag, krijg je van VDAB een mail in je (spam)box. Deze eerste mail is een betaalverzoek van €40 voor 4 uur (bij cheque 1) of €40 voor 3 uur (bij cheque 2).
Na je betaling, krijg je een tweede mail van VDAB (ook in je spambox). Dit is de loopbaancheque. Op de loopbaancheque staan twee nummers die Algida op de site van VDAB ingeeft zodat men weet dat je gestart bent.
Er is momenteel geen wachttijd om op te starten. Je mag je tweede cheque ook bij Algida inzetten als je de eerste loopbaancheque elders hebt gebruikt.
Loopbaanbegeleiding prijs en voorwaarden. Voor wie & wanneer?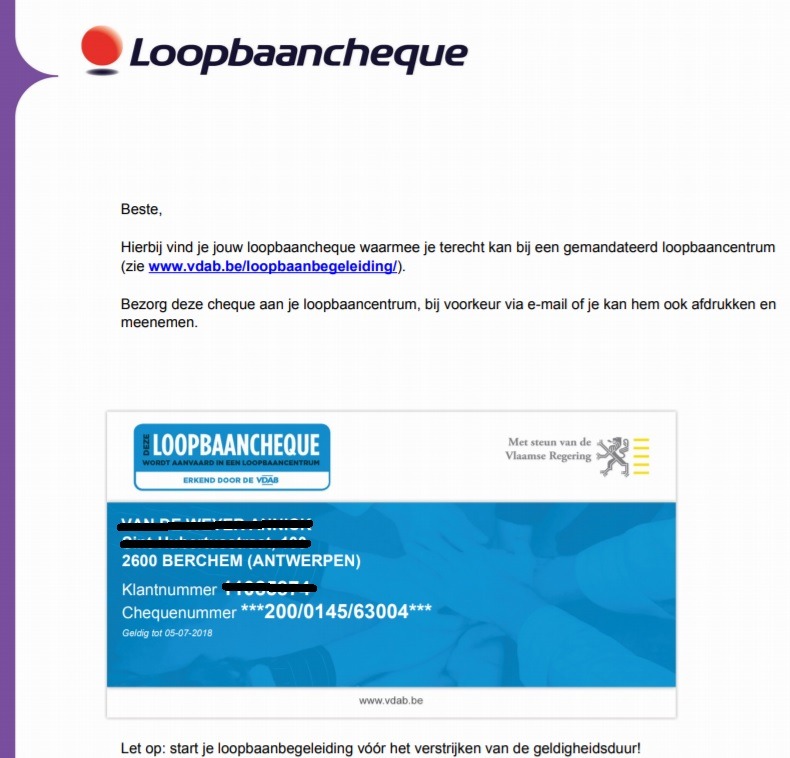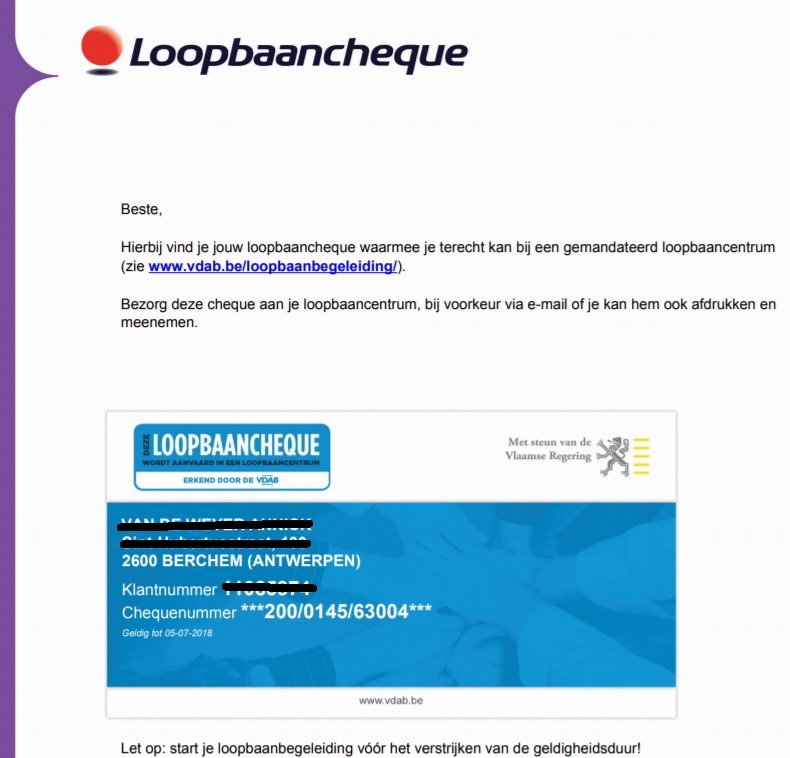 je woont of werkt in België
je hebt minstens 7 jaar werkervaring (mag onderbroken zijn)
je krijgt om de 7 jaar maximum 7 uur persoonlijke begeleiding.
Op het moment van de aanvraag heb je een werknemerscontract, arbeidscontract, interimcontract of ben je zelfstandige. Dus wie op ziekenkas of invaliditeit is én nog een job heeft, kan dus ook zijn cheque inzetten.
Heb je al ooit 4 uur ergens anders gevolgd, dan kun je de tweede cheque van 3 uur ook bij een andere loopbaanbegeleider inzetten.
Wie werkloos is en per toeval 1 dag werkt, kan op die werkdag zijn loopbaancheque aanvragen. Bel naar het gratis nummer 0800 30 700 en hou je (interim)contract bij de hand.
Waar gebeurt de loopbaanbegeleiding
Je kunt kiezen om de loopbaanbegeleiding online te doen via beeldbellen of op het kantoor van Algida in Rijkevorsel. Sessies zijn mogelijk tussen 8u30 in de ochtend en 20u00 's avonds. Online sessies duren 1 uur, face to face sessies anderhalf uur.
Resultaat van loopbaanbegeleiding
Loopbaanbegeleiding is een enorme verrijking voor jezelf omdat het je nieuwe inzichten geeft om je job makkelijker vol te houden, anders met stress om te gaan, een betere work-life balance geeft of om je te heroriënteren, ... Het vergroot je zelfvertrouwen omdat je ontdekt wat je echt goed kunt en waar je deze jobs kunt vinden.
Elk traject is een enorme persoonlijke groei van jezelf waarbij je levenslang van de resultaten profiteert.
Krijg €40 terug
Ben je lid van de vakbond ACV, dan krijg je na afloop de €40 van de loopbaancheque door ACV terugbetaald. Meld dit voor aanvang van de eerste sessie want ik moet je hiervoor de correcte papieren voor de start geven. Je kunt slechts 1 keer de terugbetaling van ACV krijgen.
Referenties loopbaanbegeleiding
Algida heeft de meeste Google reviews voor Antwerpen centrum en de meeste 5 sterren reviews op Google. Dit zegt iets over onze aanpak en kwaliteit. We zijn ook één van de weinigen met een WSE kwaliteitslabel, het kwaliteitslabel van de Vlaamse overheid ivm werk en sociale economie.