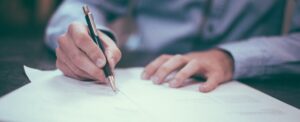 Hoe voorkom je dat je voor de verkeerde werkgever kiest want bijna 1 op 3 arbeidsovereenkomsten stopt al binnen het jaar. En het is vooral de werknemer die beslist om elders te gaan werken. Dat blijkt uit een onderzoek van Acerta.
Eerst was iedereen dolblij. De werkgever, de werknemer en de collega's want er was eindelijk een nieuwe kandidaat gevonden.
Maar bij 1 op 3 is de werkvreugde van korte duur. Na de inwerkperiode komt de realiteit van de job. Die job is blijkbaar toch niet zo plezant. Heb ik wel goed gekozen?
In een bedrijf tot 5 werknemers houdt bijna 40% van de nieuwe werknemers het binnen het jaar al voor bekeken. In grote bedrijven vanaf 100 werknemers is dit 24%
Hoe voorkom je een mismatch?
Door verder te kijken dan de jobomschrijving, adviseert loopbaanbegeleider Michel Piedfort. Ga eerst voor jezelf eens na waarom je in je huidige job weg wil.
Zoek gerichte vragen die je tijdens het sollicitatiegesprek kunt stellen zodat je niet voor dezelfde problemen komt te staan als bij je oude werkgever.
Tijdens de loopbaanbegeleiding blijkt dit een zeer moeilijke oefening. Want hoe ontdek je of je nieuwe baas medewerkers echt goed waardeert, hoe ga je na hoe de werksfeer echt is en je collega's meewerken?
Tegelijk is het aan jou om uit te vissen of het bedrijf aan jouw waarden voldoet? Wat vind jij belangrijk? Waar knap jij op af? Wat voor iemand ben jij en pas jij in de cultuur van het bedrijf? Het sollicitatiegesprek wordt dan meer een tweerichtingsgesprek in plaats van het traditionele spervuur van vragen door de werkgever.
Het is enorm belangrijk om het risico van mismatch zo klein mogelijk te houden, gaat Piedfort verder.
Tijdens het jobinterview selecteert niet alleen de werkgever maar ook de sollicitant. Jij hebt evenveel recht om na het gesprek te beslissen dat je ergens niet wil werken omdat het niet klikt.
Bij 2 op 3 is het wel een goede match
Positief nieuws is dat in 2 op de 3 gevallen werknemers wel langer dan 1 jaar blijven. Wat als die overstap iets beter betekent… wil je die kans dan laten liggen?
Vermijd mismatch met loopbaanbegeleiding
De vraag over wat als ik fout kies, blijkt deels terecht te zijn want 1 op 3 gaat binnen het jaar opnieuw weer weg.
De mismatch komt vaak omdat werkgever of werknemer bij het selectieproces onvoldoende vragen hebben gesteld waardoor verwachtingen foutief werden ingeschat. Je kunt dit vermijden door jezelf zo goed mogelijk voor te bereiden en na te denken over je loopbaan.
Daarom is de loopbaanbegeleiding zo interessant. Net omdat je nadenkt over je competenties, waar je naar toe wil, welke vragen je allemaal kunt stellen en hoe je wel (of niet) reageert in bepaalde situaties, sta je vanaf het begin veel sterker in je schoenen.
Het resultaat is een meer overwogen beslissing en minder kans op mismatch.
De loopbaanbegeleiding bij Algida duurt 4 tot 8 uur. Mail hier voor gratis info.