Wordt je takenlijst altijd maar langer en langer? Dan is het hoog tijd om prioriteiten te gaan stellen. Wat ga je eerst doen, welk werk ga je uitstellen en wat ga je laten liggen tot men er voor een tweede keer om komt vragen.
Wat is dringend en belangrijk?
Je kunt je takenlijst indelen volgens het principe van dringend en belangrijk. Voor elke taak ga je de combinatie na of ze heel dringend of belangrijk is.
Je krijgt dan 4 mogelijkheden:
1. Een taak is dringend en belangrijk
2. Een taak is niet zo dringend maar wel belangrijk
3. Een taak is belangrijk maar niet dringend
4. Een taak is niet zo belangrijk en niet zo dringend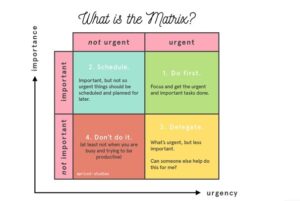 Wat doe je er mee?
Wat dringend én belangrijk is, ga je eerst doen. Je baas, je collega's of je vrienden zullen jou er dankbaar voor zijn. Je hebt geen gezeur aan je hoofd en je stressniveau daalt.
Wat zeer belangrijk is maar niet zo dringend ga je inplannen. Ga voor jezelf na tegen wanneer het werk best klaar is om iedereen tevreden te houden.
Als er iets super dringend is maar minder belangrijk voor jou, probeer dit werk dan te delegeren (door iemand anders te laten doen). Wie kan jou helpen om het werk toch zo snel mogelijk klaar te krijgen?
Is er iets niet belangrijk en niet dringend, laat het dan liggen. Doe er voorlopig niets mee.