Bij stress gaan we ongezond eten. Hoe komt dit? Het lichaam wil gewoon overleven omdat er andere prioriteiten zijn. Hierdoor neemt het alles wat op korte termijn energie geeft. Dat zijn meestal vetten en calorieën.
"In overlevingsmodus hebben we geen behoefte om te eten, laat staan gezond eten", zegt voedingsdeskundige Edith Gijsbregts. Daarom eten we ongezonder als we stress hebben.
Stress is overlevingsmechanisme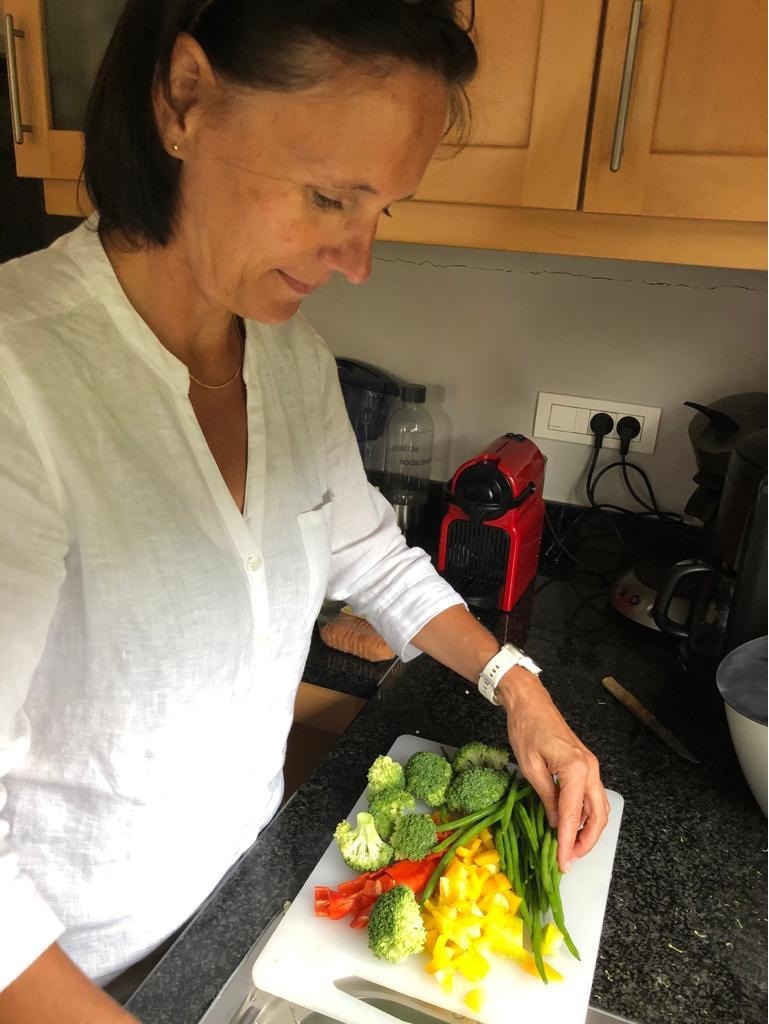 Stress zet je al je poriën open, je hart gaat sneller kloppen, je ademhaling gaat sneller, je bloed gaat sneller stromen, alle energie gaat naar je spieren.
Edith vergelijkt het met een leeuw die plots je kamer binnenkomt. De kans is heel groot dat je dan gaat lopen, verstijven of op de kast springt.
Het probleem is dat we tegenwoordig continue een leeuw achter ons hebben.
Een gezonde portie stress is OK en dat houdt ons scherp, maar het is belangrijk om voldoende rustmomenten in de bouwen, te zorgen voor een goede slaap en beweging.
Het is belangrijk om een goede balans te vinden tussen stress en ontspanning. En wat voor de ene wordt ervaren als negatieve stress, kan voor de andere juist een boost geven.
Ongezond eten bij stress
Bij teveel stress gaan we vaak ongezond eten. Op deze piekmomenten ga je niet in een ontspannen modus je gerechten plannen, boodschappen doen, het moet dan helaas allemaal snel gaan. Ongezonde stress maakt je alert.
Het is alsof je continu je omgeving in de gaten houdt op zoek naar gevaar. In deze situaties neem je alles in je mond dat rap energie geeft. En dan grijpen wij al te vaak naar calorierijke voeding, suikers en fastfood.
Je middagmaal eet je dan snel tussen 2 telefoons door, je maakt geen tijd vrij om echt te eten, om te genieten van je maaltijden, laat staan om tijd te maken om ze voor te bereiden.
Tips voor gezondere voeding en minder stress
1. Ga bewuster eten. We zijn ons te weinig bewust van wat we in onze mond steken en wanneer we dit doen. Het moet allemaal veel te snel gaan en we denk er niet bij na. Hoe vaak eet je je lunch terwijl je je sociale media bekijkt, e-mail beantwoordt of nieuwsberichten volgt?
2. Ga niet eten als je gestresst of emotioneel bent omdat je dan vaak ongezonde voedingskeuzes maakt (te vet, te zout, te zoet, te fastfood).
3. Eet alleen als je honger hebt.
4. Eet niet te veel.
5. Geniet van je eten. Maak van je maaltijden een sociaal gebeuren en maak er tijd voor. Betrek je kinderen er ook bij, betrek hen bij de bereiding van de maaltijden.
Voedingsdeskundige Edith Gijsbregts gaat samen met jou stap per stap een gepersonaliseerd voeding- en levensstijl opstellen. Je krijgt tips om je maaltijden beter te plannen, hoe je je meer groenten op je bord krijgt, hoe je foute snackgewoontes kan afleren, maar ook hoe je omgaat met emo-eten.
Hierdoor gaan stressklachten als gevolg van gezonde voedingsgewoontes verminderen.
Voeding en werkstresstest
"Het belang van gezonde voeding blijkt ook uit testjewerkstress.be. Een verminderde zelfzorg en ongezonder eten zijn 2 belangrijke parameters van stress", zegt Michel Piedfort van Algida Loopbaanbegeleiding.
Let daarom ook op je gedragsverandering. Ga voor jezelf na in welke situaties je naar ongezonde voeding grijpt. At je vroeger altijd vers, zijn de verse groentes op vrijdag al eens vervangen door een pizza take away? Heb je daarna op zaterdag en zondag ook geen zin meer om te koken? Dat kan al een teken van uitputting zijn.
Voeding en werkgeluk
Het verband tussen voeding en werkgeluk wordt vandaag meer en meer erkend, gaat Piedfort verder. Dat is één van de redenen waarom bij stresscoaching voeding een belangrijk onderdeel is van de begeleiding.
Ook voor het werkgeluk is voeding belangrijk. Daarom dat dit tijdens de loopbaanbegeleiding ook besproken wordt. Denk bijvoorbeeld aan de lunchpauze: neem je die, waar neem je die, hoe neem je lunchpauze, wat eet je voor lunch? Als deze basis goed zit, dan kunnen we kijken welke andere factoren voor jou belangrijk zijn opdat jij je goed kunt voelen in een job.