"Mijn bokslessen zijn voor iedereen. Boksen tegen stress is daarom zelfs goed voor mensen die minder werkstress willen ervaren, hun hoofd willen leegmaken en hun grenzen beter willen leren afbakenen", dat zegt Lara Groenewoud van Boksfitness Workshops aan Algida.be.
Boksen helpt op meerdere manieren bij het verminderen van stress", gaat Lara verder. Haar trainingen zijn gebaseerd op het Engels boksen waarbij enkel op elkaars handschoenen gestoten wordt en niet op het hoofd. Het zorgt voor een betere algemene conditie, een mooi gevormd lichaam en werkt stress verlagend.
Waarom is boksen goed tegen stress?
1. Je leert je grenzen verleggen door te durven kloppen.
2. Boksen is technisch erg ingewikkeld waardoor je geen tijd hebt om bezig te zijn met jouw dagelijkse leven of piekeren. Je bent gefocust op de handschoen van je tegenstander.
3. Het is ook lichamelijk zo zwaar dat je je het teveel aan spanning in je lijf makkelijker kwijtraakt. De emoties komen los en je ademhaling wordt beter.
4. Je leert jouw lichaam en geest beter kennen en aansturen door enkel spanning op een aantal spiergroepen te creëren en zo meer controle krijgt.
5. Je werkt tegelijk aan je houding waardoor mensen positiever op jou gaan reageren en je zelfvertrouwen groeit.
Grenzen verleggen door te durven kloppen
Net door te boksen, leer jij de kracht en de mogelijkheden van je lichaam kennen. Mensen die nog nooit gebokst hebben, durven vaak niet hard slaan.
De eerste keer dat men een krachtige mep uitdeelt, geeft een enorme energieboost. Het durven meppen op zich, werkt al enorm grensverleggend.
Boksen is controle opgeven
Via de bokstraining ga je vooral luisteren naar wat je trainer zegt. Door te luisteren naar je coach, hoef je niet na te denken wat je gaat doen en wanneer je dit gaat doen. Je voert uit wat je opgedragen wordt.
Dit is best een pittige oefening voor controlefreaks omdat je de controle opgeeft en volledig vertrouwt op je instructeur. Als we dit doortrekken naar het bedrijfsleven, merken we dat mensen hierdoor zelf ook makkelijker afstand van hun werk kunnen nemen.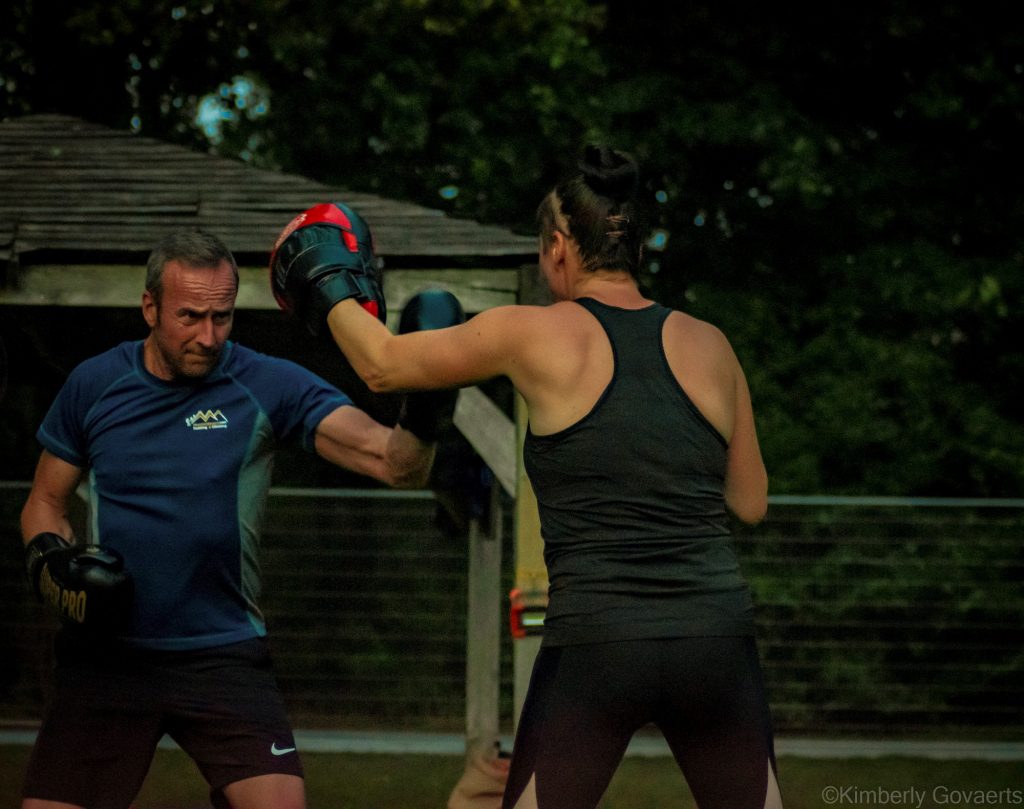 Niet te veel nadenken, praten mag maar hoeft niet
Het is de uitdaging om niet teveel na te denken tijdens het boksen, zeker in het begin omdat het technisch zo ingewikkeld is. Daarom is het goed om volledig te kunnen vertrouwen op de instructies van de trainer.
Boksen is volgens Lara daarom een mooi voorbeeld dat men heel veel onbewust kan leren. Personen met heftigere gevoelens kiezen vaker voor privé-trainingen. Hierdoor is Lara alleen met hen bezig zodat men sneller vooruitgang boekt.
Na de eerste training merk je al een verschil. Na een maand of twee ga je aan je lichaam zien en voelen dat het verandert en zul je de reflexen ook makkelijker toepassen in het dagelijkse leven. Tijdens het boksen vraagt Lara weinig. In principe hoeft de klant mij niets te vertellen, maar het mag wel.
Toch is het meestal zo dat mensen na een paar sessies los komen en haar spontaan vertellen waar ze mee zitten. Dus praten mag, maar zeker niet teveel.
Lara is zelf hoogsensitief en voelt daarom enorm goed aan hoe ze haar trainingen best opbouwt om mensen op hun eigen tempo uit die comfortzone te halen.
Boksen tegen stress: ook voor CEO's, sportlui en secretaresses
Gelukkig is er vandaag een hele mentaliteitsverandering rond boksen. Boksen wordt niet langer bekeken als de sport van agressievelingen die op mekaars hoofd slaan.
Het is veel meer een discipline aan het worden waar iedereen zich in kan vinden. Directeurs, sportlui en zelfs brave secretaresses komen bij Lara boksen. Voor de een is het een aanvulling op een sportschema, voor de andere de ideale work-out na een inspannende dag of een goede manier om los te laten.
Na de training voelen mensen zich moe maar voldaan, opgelucht en energiek. De endorfines stromen door het lichaam.
Boksen in groep, met 2 of als teambuilding
De boksfitness workshops kunnen privé, in groep of via teambuilding als bedrijf geboekt worden.
Er zijn groepslessen op dinsdag en donderdag. De privé-trainingen en bedrijfsteambuildings zijn te boeken in functie van ieders agenda.
Meer info:
Boksfitness Workshops Kapellen – Lara Groenewoud – tel.: 0483 06 84 95 – e-mail: laragroenewoud@gmail.com – www.boksfitnessworkshops.com