Kun je bij een burn-out na drie maanden, zes maanden of twaalf maanden terug aan de slag? Hoe lang duurt een burn-out? Gemiddeld duurt een burn-out negen maanden, dit wil zeggen, je bent negen maanden op ziekenkas.  Van je burn-out af raken kan echter jaren duren.
Het gaat hier om gemiddelden. Dit betekent dat er werknemers zijn die na een maand gaan werken en dat er mensen zijn die drie jaar van hun job weg blijven.
Tegelijk is er een belangrijke nuance in de tijdsduur. Het is niet omdat je terug aan het werk gaat, dat je burn-out over is. Volgens psychologen en artsen hoef je immers niet klachtenvrij van burn-out te zijn om opnieuw aan de slag te gaan.
Hoe lang duurt een burn-out? Gemiddeld 9 maanden ziek thuis
Die negen maanden is berekend op basis van de ziektecijfers in verband met burn-out van sociaal secretariaten. De re-integratiecijfers op het werk na een burn-out zien er helaas niet goed uit, zeker als je negen maanden afwezig bent geweest. Amper 10 tot 20 procent van de mensen keert naar zijn oude werkplek terug.
Een op twee patiënten die tot drie maanden thuis zitten, behoudt wel zijn job. Daarom dat huisartsen vaak willen dat men binnen de drie maanden maanden opnieuw aan de slag gaat.
Negen maanden werken aan jezelf
In die negen maanden wordt er van de burn-out patiënten heel wat verlangd. In het begin wordt aangedrongen op rust nemen en zelfzorg. Het kan zelfs zijn dat men aangemoedigd wordt cursussen te  volgen om zichzelf beter te kunnen ontspannen om zo rustiger in het leven te staan.
Daarna ga je vooral aan jezelf werken. Je huisarts zal je naar een psycholoog, burn-out coach of loopbaanbegeleider doorverwijzen. Het wordt super belangrijk dat je gaat ontdekken waar jij het contact met jezelf verloren bent. Hoe komt het dat jouw batterij leeg is gelopen? Daarna ga je zoeken hoe je dit kunt vermijden zodat het bij één burn-out blijft.
Hoe lang duurt een burn-out?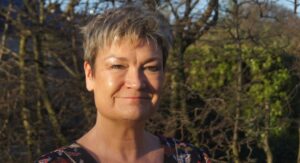 Stel dat men negen maanden van het werk afwezig blijft, dan duurt die burn-out eigenlijk veel langer net omdat men niet klachtenvrij zal zijn bij de heropstart van het werk. De getuigenis over de burn-out van Anny toont dat je altijd alert moet blijven.
Ook het verhaal van Ilse, Carine en Kristine toont aan dat zij nog jaren na hun burn-out klachten blijven ervaren.
Tegelijk moeten zij heel hun leven blijven opletten om de oorzaak van hun burn-out te blijven vermijden.
Herken daarom de symptomen van burn-out nog voor je ziek valt
Aan een burn-out gaat altijd een lange periode van vage klachten vooraf. Het is enorm belangrijk dat men deze klachten tijdig herkent zodat men kan vermijden dat men ziekt valt.
Omdat de herstelperiode van een burn-out best lang kan zijn, is de kans groot dat men niet meer naar je oude job terugkeert. Vandaar dat het super belangrijk is om de symptomen van burn-out tijdig te herkennen. Zo kan men nog tijdens je werkperiode naar de oorzaak van de burn-out. Tegelijk kan men een aantal dingen op de werkvloer uitproberen om die burn-out alsnog te vermijden.
Eens men in burn-out thuis zit, heeft men doorgaans hiervoor de energie en kracht niet, zegt Michel Piedfort die burn-out patiënten opnieuw naar werk begeleidt. Bovendien vervagen herinneringen aan het werk snel. Hoe langer men thuis zit, hoe moeilijker het wordt om alle taken van een werkdag goed op te lijsten bijvoorbeeld. Het wordt dan ook veel moeilijker om goed in te schatten wat de echte oorzaak van de burn-out is.
Tegelijk krijgt Piedfort vaak de reactie tijdens zijn begeleidingen dat mensen hun situatie hadden kunnen voorkomen indien men het zo ver niet had laten komen.
2 op 3 ontslagen - Verwacht niet veel van je werkgever
De meerderheid van de werknemers wordt na een langer durende afwezigheid gewoon ontslagen. Bij een reïntegratieproces is dit zelfs 2 op 3 werknemers die nooit terugkeren.
Daarom is het enorm belangrijk dat je zelf het initiatief neemt om aan een comeback te werken en niet af te wachten. Algida helpt je daarbij.
Andere interessante artikels
Welke burn-out klachten heb jij?
Beantwoord onderstaande vragen. Je hoeft je mailadres niet in te geven om het resultaat te zien.
Burn-out begeleiding: info en vragen
Online begeleiding
Burn-out klachten verdrijven

Voor werknemers vanaf 7 jaar ervaring

Je woont of werkt in Vlaanderen

Data in onderling overleg

Start na ontvangst loopbaancheque