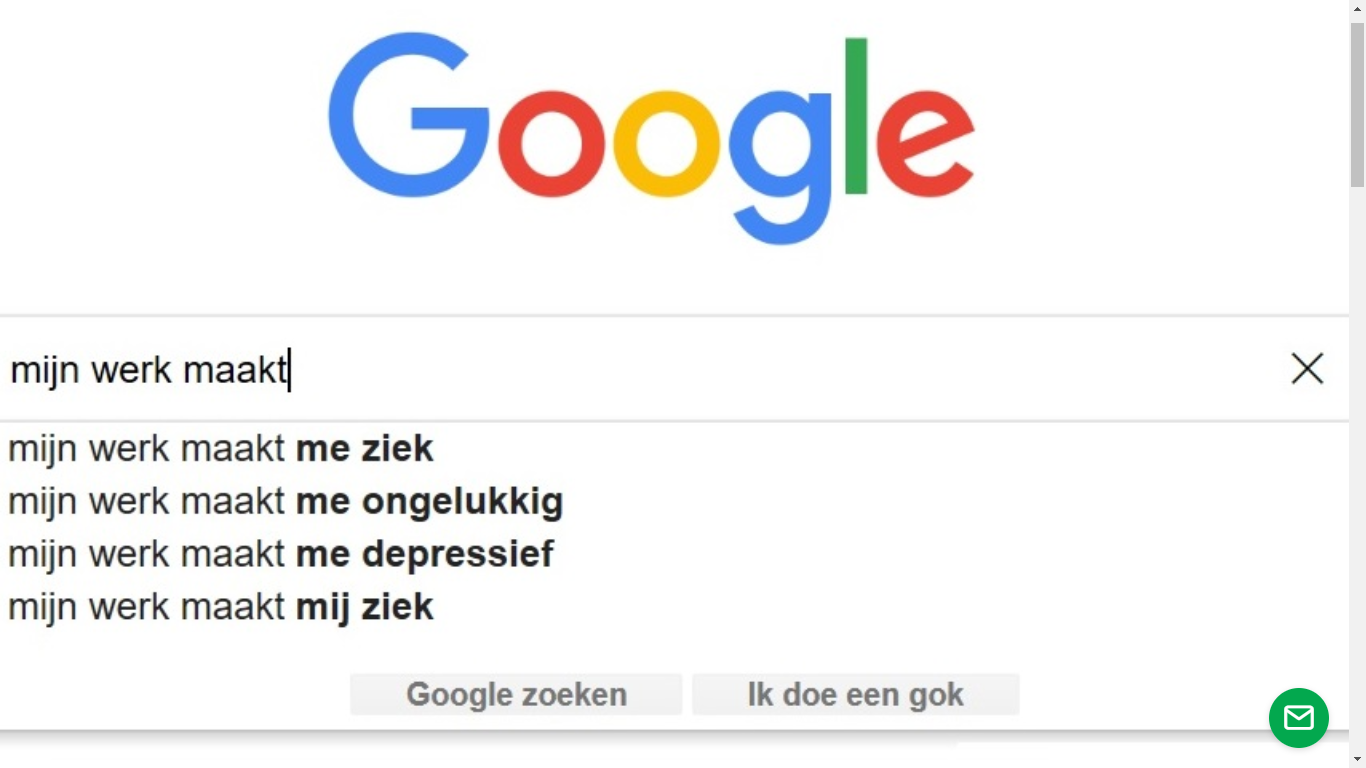 O jee, dacht ik. Google weet het ook al. Mijn werkt maakt me ziek. Toen ik het zag, ging ik direct naar mijn zoekrobot en begon te typen. Mijn werk maakt… en Google kwam inderdaad met de suggesties mijn werk maakt me ziek, ongelukkig, depressief.
Wat mij opviel is dat het allemaal om negatieve gevoelens gaat. Mijn werkt maakt me blij komt immers niet in het lijstje voor terwijl werk ook plezant kan zijn in plaats van irritant toch?
Hoe lang heb je dit gevoel al? Mijn werk maakt me ziek?
Als je werk je ziek maakt, ga je best voor jezelf na wat ziek maken voor jou betekent. Heb je geen energie meer? Heb je geen goesting om naar je werk te vertrekken? Ben je prikkelbaar? Lig je 's nachts wakker in je bed?
Of heb je ook al lichamelijke klachten? In mijn jarenlange ervaring als loopbaanbegeleider ben ik enorm geschrokken welke reacties het lichaam geeft om mensen duidelijk te maken dat er iets niet goed gaat. Dat kan gaan van maag- en darmproblemen, hartklachten, hoofdpijn en misselijkheid tot slapeloosheid en spierpijnen.
Kortom: heeft iemand jou al eens aangeraden om naar de dokter te gaan? Of blijf je koppig volhouden dat al je klachten te herleiden zijn naar het gezaag van de baas en dat het met een weekje vakantie wel over gaat?
Geloof me… het gaat niet over als je niets verandert.
Hoe lang kun je het nog volhouden?
Wie letterlijk ziek wordt van zijn werk heeft de eerste alarmsignalen van zijn lichaam gekregen. Stop, het gaat niet meer.
De vraag is niet langer hoe lang hou je het nog vol. Het antwoord is vaak: je blijft meteen thuis. Alle rode lichten knipperen. Je moet direct aan de kant van de weg gaan staan en kijken hoe de anderen blijven voorbij razen terwijl jij staat toe te kijken.
Want dat wordt het echt… toekijken. Als je daar tenminste de energie nog voor hebt.
Dieperliggende frustraties
Als ik met mensen praat, merk ik dat men zich vaak niet bewust is van alle problemen en dat mensen hier over moeten nadenken.
Wie hiervoor tijd neemt, ontdekt veel meer frustraties en problemen. Pas als je alle problemen kunt benoemen, kun je ze grondig aanpakken. Die herbronning is met andere woorden echt wel nodig.
Loopbaanbegeleiding als werk je ziek maakt
Als je ervaart dat je werk je ziek maakt, dan is het hoog tijd om hulp in te schakelen. Praat er in eerste instantie met je huisarts over.
Je huisarts zal tegelijk nagaan wat jou probleem is en je persoonlijk opvolgen of doorverwijzen naar een psycholoog of loopbaanbegeleider.
De loopbaanbegeleider komt aan bod ofwel bij beginnende klachten of tegen het einde van je ziekteperiode (als je al maanden thuis op ziekenkas bent en er opnieuw zachtjes aan wordt gedacht om terug aan het werk te gaan).
Dankzij de loopbaanbegeleiding ga je anders naar je werk kijken. De psycholoog zal jou totale persoonlijkheid bekijken. De loopbaanbegeleiding heeft als doel om jou opnieuw terug in te schakelen in het werkproces. Wat dit werkproces dan ook mogen zijn. Loopbaanbegeleiders hebben een hele reeks van technieken zodat je hier sneller uitkomt dan als je alles alleen probeert op te lossen.
Beslissingen nemen en aanvaarden
Het resultaat van de loopbaanbegeleiding is dat je een beslissing gaat nemen.
• Ofwel blijf je, leer je de situatie aanvaarden en ga je anders om met de situatie. Ook hier heb je tientallen nuances qua oplossingen.
• Ofwel ga je bij je werkgever weg. Vermijd dat je van je probleem gaat lopen. Het zou bijzonder jammer zijn als je van de regen in de drup valt. Tijdens loopbaanbegeleiding wordt enorm gekeken naar de oorzaak van het probleem, hoe jij hier tegenover aan kijkt en wat je kunt doen om de situatie in de toekomst te vermijden.
Nood aan een gesprek?
Heb je naar aanleiding van dit artikel behoefte aan een gesprek, neem dan contact op:
1. Je huisarts als je aanhoudende lichamelijke klachten hebt
2. Een loopbaanbegeleider van Algida als je je werksituatie wil bekijken. Bel voor een gratis gesprek. Er wordt naar je geluisterd en je krijgt meer informatie over wat loopbaanbegeleiding voor jou kan doen.
Loopbaanbegeleiding is een gesubsidieerd programma in samenwerking met VDAB met als doel werknemers en zelfstandigen opnieuw gelukkig te maken in hun job zodat zij beschikbaar blijven voor de arbeidsmarkt.
Bel nu voor meer informatie of het maken van een afspraak naar 0486 329 020  of mail
Over Michel Piedfort:
Loopbaanbegeleider Michel Piedfort weet waarover hij spreekt. Hij werd vroeger makkelijk voor een gesprek uitgenodigd, hij mocht vaak voor een tweede keer komen maar dat laatste gesprek kreeg hij vaak niet. Hij is daarna op een totaal andere manier gaan solliciteren. Zijn ervaring deelt hij heel graag met jou.
Meer info en prijs loopbaancheque
Online begeleiding
Hoe vermijd je de valkuilen?

Het is maar werk. Hoe werk minder aantrekken?

Voor werknemers vanaf 7 jaar ervaring

Je woont of werkt in Vlaanderen

Data in onderling overleg

Start na ontvangst loopbaancheque