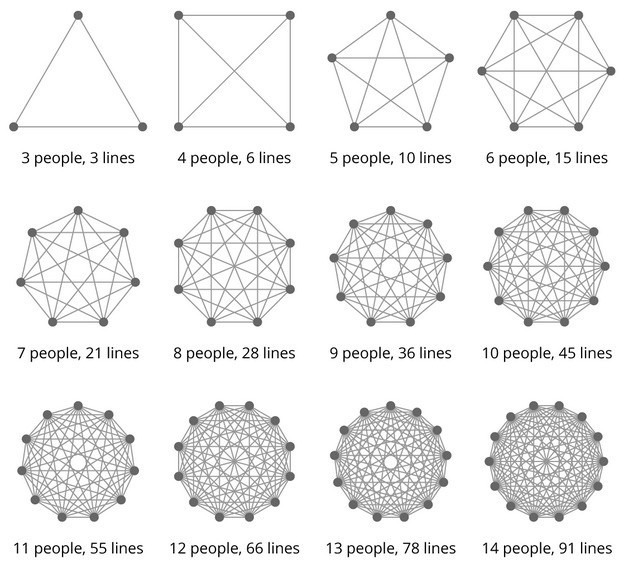 Deze tekening maakt in snel duidelijk waarom in veel bedrijven communicatie vierkant draait.
Naarmate een bedrijf meer werknemers krijgt, komen er ook meer communicatielijnen.
Bij 3 werknemers zie je in de eerste figuur dat er maximum 3 communicatielijnen zijn.
Bij 4 medewerkers worden dat 6 communicatielijnen
en bij 5 medewerkers zijn het al 10 communicatielijnen.
Tot 5 medewerkers blijft alles nog redelijk overzichtelijk. Maar let even op wat er gebeurt als het bedrijf groeit naar 10 medewerkers. Dan zijn er al 45 communicatielijnen mogelijk. Je begrijpt meteen dat er dan al snel communicatieproblemen ontstaan.
Mensen communiceren vaak rechtstreeks met elkaar
In een bedrijf met 10 werknemers zijn er 45 communicatielijnen mogelijk. Iedereen weet wellicht uit ervaring dat heel veel collega's bij een vraag of een probleem rechtstreeks een andere collega aanspreken zonder dat hun chef hiervan op de hoogte is.
Hierdoor is het mogelijk dat de niet meer begrijpt waarom mensen klagen of meer werk krijgen. Soms is het mogelijk dat de baas onterecht denkt dat alles vlot draait omdat hij geen weet van problemen heeft.
Communicatielijnen volgen
Als men daarentegen de officiële communicatielijnen altijd zou volgen, dan krijgt men een zeer trage en logge structuur.
"Ik was ooit assistent", zegt loopbaanbegeleider Michel Piedfort. "De directeur zei tegen mij: ik praat niet met jou en jij hoeft mij niets te komen vragen. Je hebt een manager boven je die aan mij rapporteert. Als je iets nodig hebt, dan bespreek je dat eerst met hem en wij bespreken dat indien nodig op onze wekelijkse meeting."
Ik vond het destijds te gek voor woorden. Het maakte dat ik vaak meer dan 1 week op een simpel antwoord moest wachten. Maar alle betrokken partijen waren wel op de hoogte.
Evenwicht zoeken
De meeste bedrijven proberen een evenwicht te zoeken tussen het volgen van uitsluitend rechtstreekse communicatielijnen en het toestaan van indirecte communicatielijnen. Zolang problemen via indirecte communicatielijnen opgelost raken, houdt men het doorgaans het liefst eenvoudig.
Het is pas als er blijvend problemen voorkomen, dat men communicatiestromen begint te formaliseren met als gevolg dat er documenten ingevuld moeten worden en vergaderingen worden opgezet.
Loopt bij jouw werkgever de communicatie mank?
Heb je zelf het idee dat bij jouw werkgever de communicatie volledig mank loopt, denk dan even aan deze tekening.
Je baas is vaak niet eens op de hoogte, ook al wordt van hem verwacht dit wel te zijn.