De burn-out test geeft een overzicht van burn-out symptomen. Het is super belangrijk dat je alle symptomen kent net omdat we signalen vaak negeren. Hierdoor is het lichaam verward geraakt en krijg je vage, algemene signalen.
Vandaag is het buikpijn, morgen hoofdpijn of zeer moe zijn. De conclusie is: het zijn truckjes van je lichaam om te zeggen: ik ben moe, dit wil ik niet meer. Leer ze daarom allemaal kennen zodat je alle symptomen kunt linken aan burn-out
In de burn-out test zijn meer dan 30 klachten opgenomen gaande van lichamelijke klachten, emotionele reacties, vormen van geheugenproblemen tot gedragsveranderingen.
Wat meet de burn-out test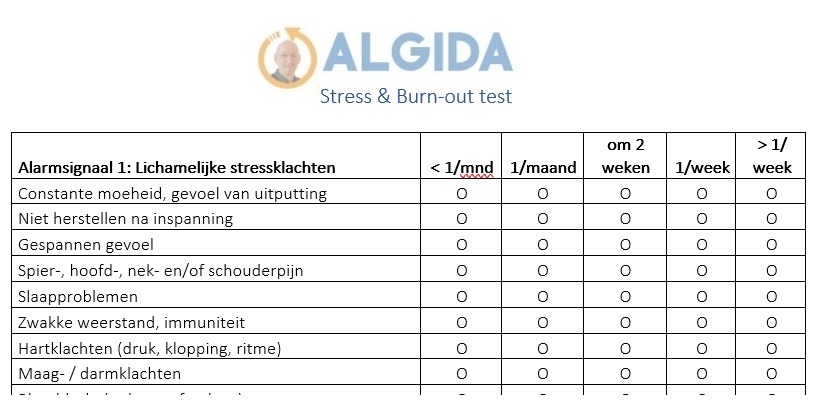 De burn-out test bevat lichamelijke, emotionele en cognitieve klachten. Je beoordeelt jezelf door na te gaan hoe vaak bepaalde symptomen voorkomen.
Zo zie je meteen hoe diep je zit en wat de evolutie van je stress is als je de test meermaals doet (vb: elke week of om de 2 weken).
Dankzij deze burn-out test kan men burn-out zien aankomen en voorkomen omdat burn-out het gevolg is van langdurig opgekropte irritaties. Daarom heeft deze burn-outtest ook een voorspellend karakter.
Je kunt de test ook doen voor je bezoek aan de huisarts, bedrijfsarts of adviserend geneesheer om een verlenging te vragen van je doktersbriefje omdat je duidelijker de symptomen die op jou van toepassing zijn benoemt.
Burn-out signalen: truckjes van je lichaam

De burn-out signalen zijn truckjes van je lichaam dat roept: ik ben zo moe. Stop er mee. Het is net omdat we die signalen in het begin zo genegeerd hebben dat je hersenen er gek van werden want die denken: 'hoe maak ik nu duidelijk dat ik wil rusten terwijl jij maar blijft doordoen'.
Een mooi voorbeeld is het pilletje tegen de hoofdpijn. Je zit met een deadline, je lichaam is moe en geeft je hoofdpijn. In plaats van 5 minuten naar buiten te gaan en pauze te nemen, slik je een pilletje en werkt gewoon door. De hoofdpijn is 5 minuten later weg. Maar je lichaam is nog wel moe.
Sterker nog: je lichaam denkt: Ik ga een ander signaal geven om duidelijk te maken dat ik moe ben. De volgende keer geef ik krampen, laat ik dingen vergeten, spierpijn of laat ik de persoon uitgeteld op de zetel liggen. Het gevolg is dat je vage of wisselende klachten krijgt.
Kortom: deze klachten zijn je rode vlaggen die je voortaan beter niet meer negeert. Leer ze daarom allemaal herkennen.
Vragen over burn-out en de burn-outtest