Hoe raak je rapper uit burn-out?
Wat werkt wel en wat werkt niet? Waarom is rusten alleen onvoldoende en vanaf wanneer kun je opnieuw werken
Burn-out wordt ervaren als 'gebrek aan energie hebben', je bent geestelijk moe omdat je niet recupereert. Een vaak voorkomend fout advies is: 'ga leuke dingen doen of volg yoga. Als de oorzaak van je burn-out echter op het werk ligt, dan mag je zo lang op een yogamat liggen als je wil, je probleem raakt zo echt niet opgelost.
In de eerste fase van je burn-out is rusten en slapen enorm belangrijk. Je slaapt wellicht wel 12 uur per dag. Gaandeweg betert dit. Je zal merken dat je lichamelijke en emotionele klachten verminderen. Je focus- en geheugenproblemen verdwijnen het laatste. Dat betekent echter niet dat je moet wachten met werkhervatting tot die  geheugenproblemen voorbij zijn. Je kunt immers veel sneller opnieuw aan de slag.
Waarom is rusten bij burn-out onvoldoende
Er is een grote misvatting in verband met rusten. De oorzaak van je burn-out zit dieper dan een gebrek aan rust in combinatie met de werkdruk. Daarom lost rusten jouw probleem op lange termijn niet op. Wie alleen rust en daarna opnieuw gaat werken, zal merken dat de klachten weerkeren zelfs al verander je van job. Daarom is het super belangrijk om na te ontdekken wat de echte oorzaak van je burn-out is.
Ik ben Michel Piedfort, ik begeleid al meer dan 6 jaar mensen met burn-out omdat ik hierin gespecialiseerd ben na meer dan 10 jaar ervaring in de geestelijke gezondheidszorg en 25 jaar ervaring in het bedrijfsleven.
Oorzaken burn-out
Ligt de oorzaak van de burn-out uitsluitend bij de werkgever
Of bij externe factoren (de file, het pendelen, ...) die minder met het werk op zich te maken hebben
Bij jezelf, wat meestal niet wordt onderzocht maar toch een groter aandeel kan hebben dan men denkt
Of een combinatie van de 3 bovenstaande punten wat bijna altijd het geval is
Om een goede burn-out begeleiding te hebben, dien je dus eerst oprecht en eerlijk na te gaan waar voor jou de oorzaken liggen.
Oplossingen voor burn-out
Ligt de oorzaak alleen bij je werkgever. Dan is de oplossing eenvoudig. Verander van job want het karakter van je baas of de stapel werk in het algemeen zal niet veranderen.
Bij oorzaken buiten het werk zoals bijvoorbeeld het pendelen, kun je voor jezelf nagaan wat je echt wil. Wil je nog zo lang onderweg zijn, kun je het pendelen aangenamer maken en hoe?
Onderzoek zeker welk aandeel je persoonlijkheid heeft in je burn-out. Doe dit zeker als je heel gedreven bent en je job graag doet want aan deze factoren kun je wel iets doen. De stapel op het werk zal blijven maar je kunt wel bijvoorbeeld leren neen zeggen, andere prioriteiten leggen in je leven zodat je minder met je werk bezig bent, ...
Wanneer het eerder om een combinatie van factoren gaat, is het een leuke uitdaging om jouw knoop te ontwarren.
Wanneer opnieuw werken na burn-out
Je goesting om te gaan werken komt eerder dan dat jij er echt klaar voor bent. Je huisarts zal op dit moment je enthousiasme temperen. Eén van de belangrijkste signalen zijn jouw burn-out symptomen. Leer daarom opnieuw luisteren naar je lichaam. Je bent immers in burn-out gekomen omdat je de signalen van je lichaam lange tijd negeerde of niet opmerkte.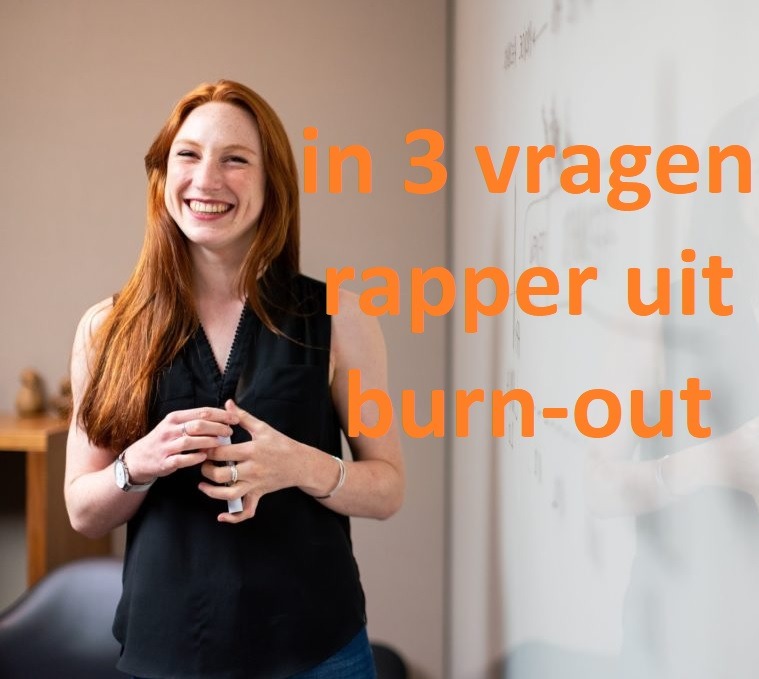 Tijdens je burn-out is het wél zinvol om na te denken waar je na je burn-out naar toe wil en hoe je zal werken. Hoewel de theorie zegt om volledig te deconnecteren van het werk, kom ik bijzonder weinig mensen tegen die dit echt kunnen. Bijna iedereen zit zich thuis af te vragen hoe het voortaan verder moet. Dit komt na je intense slaapperiode. Op dit moment is het goed om burn-out begeleiding te volgen bij Algida want vanaf dan kijk je opnieuw naar de toekomst.
Je zal voelen wanneer je klaar bent om te gaan werken omdat jouw vertrouwen er opnieuw is, je staat sterker in je schoenen en de angst voor herval is weg. Daarom helpt burn-out begeleiding je sneller aan de slag want net al deze zaken worden aangepakt.
Burn-out behandeling
In een goede werkhervatting na burn-out behandeling komen daarom aan bod
Hoe kun jij in de toekomst beter naar je lichaam luisteren om herval of extreme vermoeidheid sneller op te merken. Wat zijn jouw rode vlaggen
Welke persoonsgebonden elementen hebben aan jouw burn-out bijgedragen en wat kun je hier tegen doen.
Wanneer is het zinvol om terugkeer naar je werkgever te overwegen en wanneer niet?
Onder welke voorwaarden kun jij terug, al dan niet via progressieve werkhervatting. Doe je dit dan bij je huidige werkgever of elders?
Hoe ga jij in de toekomst werken zodanig dat je even gemotiveerd of bevlogen bent maar je niet uitgeput raakt?
Wil je weg, wanneer is medisch ontslag voor jou mogelijk en hoe zorg je er voor dat je dit krijgt. Want de meeste werkgevers willen dit niet zo maar geven
Heb je schrik voor de gesprekken met de artsen van het ziekenfonds, je huisarts of bedrijfsarts ook dan kun je deze gesprekken via Algida voorbereiden
Verander je van job, welke job past dan beter bij jou? Wat ga je tegen je nieuwe werkgever vertellen? Welke vragen ga je stellen tijdens het sollicitatiegesprek of hoe ga jij die burn-out bespreekbaar maken?
Burn-out behandeling is spotgoedkoop bij Algida als je de loopbaancheque inzet. Je krijgt dan 7 uur persoonlijke begeleiding voor amper €80, betaalbaar in 2 keer. Je betaalt €40 voor de eerste 4 uur en daarna €40 voor de volgende 3 uur. Zowel werknemers, werknemers op ziekenkas/invaliditeit als zelfstandigen hebben er recht op. Vraag hierover meer info.
De behandeling is gespreid over 6 tot 8 weken. Ze kan online of face to face doorgaan.