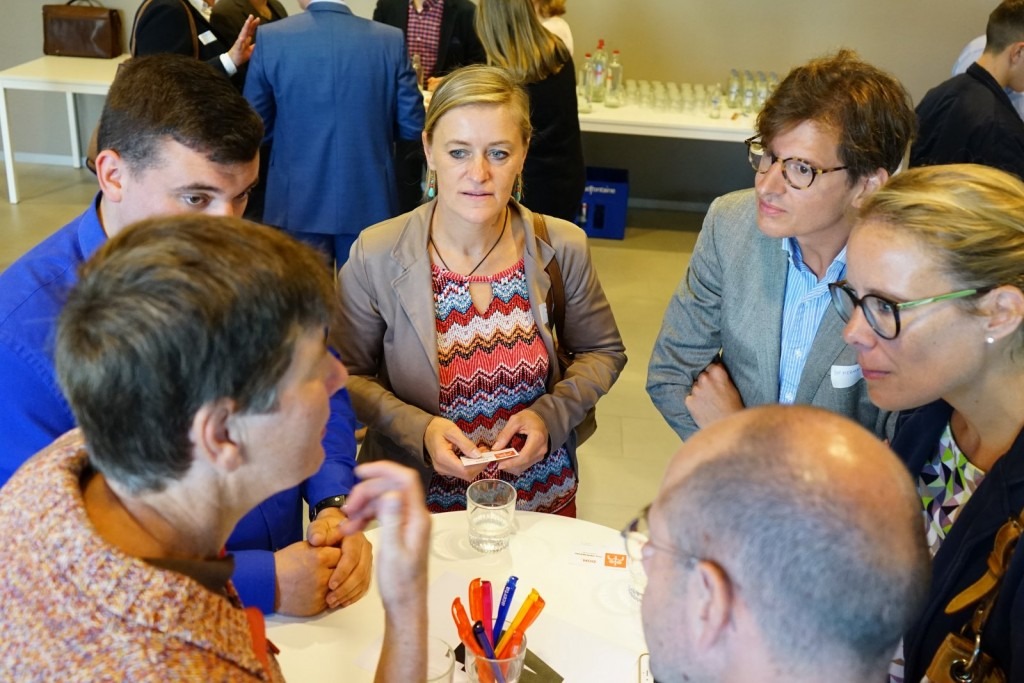 Waar kun je netwerken, interessante bedrijven, klanten of leveranciers ontmoeten? Overloop deze netwerkorganisaties, business clubs of bijeenkomsten en maak je keuze.
• Wat? Het professionele luik van Markant vzw, met het motto: "Deel, leer en inspireer". Het netwerk biedt activiteiten aan op maat aan. Het doel? Een extra dimensie toevoegen aan het leven van ondernemende vrouwen, zowel op privé als zakelijk vlak.
• Doelgroep: Actieve vrouwelijke professionals (onderneemsters, kader- of directieleden en vrije beroepers)
• Regio: 9 regionale netwerken in Vlaanderen
• Wat? Een professionele netwerkorganisatie die tracht de IT-community te verenigen en te inspireren. Leden delen best practices, ervaringen en toekomstperspectieven. Ze dagen elkaar uit om nieuwe IT-innovaties en kansen te benutten.
• Doelgroep: Professionals met een toonaangevende IT-functie in een bedrijf
• Regio: België
• Wat? De Hanze - International Club of Flanders is enerzijds een ontmoetingsplatform en anderzijds een business club met als doel om ondernemers uit Vlaanderen samen te brengen. Het is een plaats om te netwerken, ideeën uit te wisselen en overtuigingen te toetsen.
• Doelpubliek: Managers, politici, ambtenaren en ondernemers uit Vlaanderen
• Leden: 250
• Internationaal: Deel van de World Trade Centers Association.
• Regio: Vlaanderen
• Wat? ETION is een forum voor geëngageerd ondernemen. Binnen ETION zijn over de regio's heen 80 rondetafelgroepen actief waar leden in een sfeer van openheid en vertrouwen ervaringen uitwisselen met collega-ondernemers.
• Doelpubliek: Ondernemers en beslissingsnemers die geloven in de mens en authentiek leiderschap.
• Regio: Antwerpen-Mechelen, Kempen, Brabant-Brussel, Oost-Vlaanderen en West-Vlaanderen
• Leden: 4000
• Wat? FBN Belgium is een unieke community van toonaangevende familiebedrijven in België. Ze bieden een platform aan met sprekers, getuigenissen en discussies over de soms delicate, maar vaak vergelijkbare zaken waarmee bedrijfsfamilies worden geconfronteerd.
• Doelpubliek: Zaakvoerder van familiebedrijf
• Internationaal: Deel van de internationale organisatie FBN
• Regio: België
• Wat? Flanders DC, of voluit Flanders District of Creativity, is het unieke aanspreekpunt voor ondernemingen uit de creatieve sector. Ze ondersteunen bij de start, groei of professionele uitbouw van organisaties, netwerken én faciliteren opportuniteiten in het buitenland. Als vzw werken ze in opdracht van de Vlaamse overheid.
• Doelpubliek: Ondernemers uit de creatieve sector (architectuur, audiovisuele industrie, beeldende kunst, communicatie, pr en reclame, design, erfgoed, gaming, mode, muziek en meer…)
• Regio: Vlaanderen
• Wat? JCI is een ondernemersvereniging die projecten, vormingen, evenementen organiseren en op regelmatige basis hun ideeën aftoetsen bij internationale ondernemers.
• Doelpubliek: high potentials, leiders en ondernemers tussen de 18 en de 40 jaar
• Leden: +1000
• Regio: 40 lokale afdelingen in Vlaanderen
• Wat? Internationale en Informele netwerkclub met als doel om ondernemers op een laagdrempelige manier bij elkaar brengen en te ondersteunen tijdens een ontbijtmeeting. Organisatie zonder lidmaatschap en volledig gratis!
• Doelgroep: Ondernemers en ondernemingen
• Regio: 36 +locaties in Vlaanderen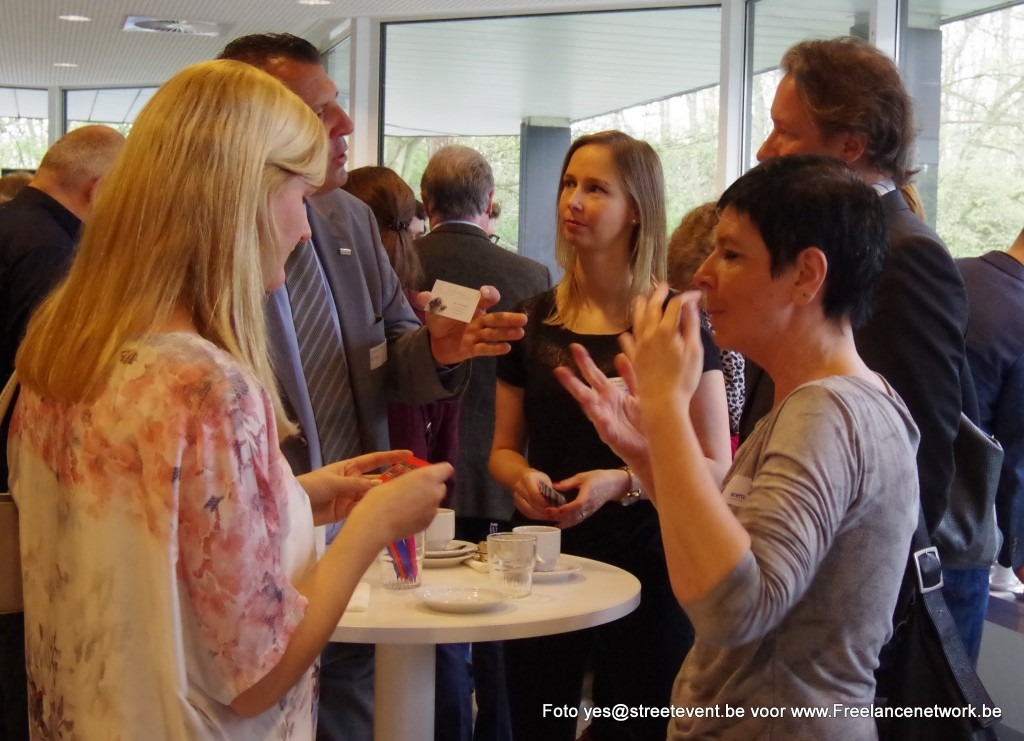 Andere netwerkevenementen in Vlaanderen
• Wat? Een ondernemersvereniging die naast een stevig Vlaams netwerk ook informatie, advies, cursussen en events organiseert.
• Doelgroep: Beginnende ondernemers en bedrijfsleiders.
• Regio: Ongeveer 300 lokale werkingen overal in Vlaanderen beschikbaar
• Wat? Het VBO is een werkgeversorganisatie die meer dan 50.000 ondernemers vertegenwoordigt uit Vlaanderen, Wallonië en Brussel. Zowel op federaal, Europees als op internationaal niveau nemen ze het op voor de Belgische ondernemer.
• Doelpubliek: Belgische ondernemer
• Regio: België
• Wat? Voka is één van de grootste ondernemersnetwerken in Vlaanderen.
• Doelpubliek: startende en ervaren ondernemers
• Regio: Vlaanderen en Brussel
• Leden: 18.000
• Wat? Een business club en vrij podium voor bedrijfsleiders. A12 business club organiseert ontbijtvergaderingen waar zakenmensen gelijkgezinden kunnen ontmoeten en samenwerken.
• Doelpubliek: Bedrijfsleiders uit groot Antwerpen
• Regio: Antwerpen A12 en Antwerpen-Linkeroever
Antwerp Netwerkmeetings - www.antwerp-netwerkmeetings.be
• Wat? Een netwerkbijeenkomst in hartje Antwerpen voor alle ondernemers. Het is geen ledenclub, wel moet je je op voorhand inschrijven voor de meetings. Leuk weetje: vanaf januari organiseren zij ook de networkgames.
• Doelgroep: Grote, kleine, startende of ervaren ondernemers
• Regio: Antwerpen
• Wat? Een business club die verantwoordelijken binnen verschillende maatschappelijke domeinen verenigt. Onder andere mensen uit het bedrijfsleven, de politiek, de academische, de wetenschappelijk en de culturele wereld enz. De netwerkontmoetingen vinden plaats in een exclusieve setting 'dé historische salons' en met inspirerende sprekers.
• Doelpubliek: Ambtenaren, politici, CEO's, wetenschappers… met een aanzienlijke positie binnen hun domein.
• Regio: Antwerpen

Nog meer interessante netwerkevenementen in Vlaanderen
• Wat? De economische Raad voor Oost-Vlaanderen vzw (afgekort EROV) werkt in opdracht van de provincie Oost-Vlaanderen en tracht lokale ondernemers te inspireren, streekproducten te promoten, jong ondernemerschap te stimuleren en handelskernen te versterken. Ze organiseren seminaries, bedrijfsbezoeken en netwerkmomenten.
• Doelpubliek: Ondernemers uit de publieke en private sector
• Regio: Gent
• Wat? Betrokkenheid. Enthousiasme. Ontmoeten. Daarvoor staat Overondernemers.be, een jonge, dynamische netwerkorganisatie die bewust kiest voor een kleinschalig karakter, zodat gelijkgestemde ondernemers actief kunnen netwerken en sparren met collega-ondernemers. Fysieke en online events wisselen elkaar af, zowel voor leden als niet-leden.
• Doelpubliek: Zaakvoerders van eenmanszaken en kleine kmo's.
• Regio: West- en Oost-Vlaanderen
• Wat? Een serviceclub van 250 West-Vlamingen die werken buiten hun eigen provincie en die vriendschap en verantwoord leiderschap hoog in het vaandel dragen. West-Vlamingen actief in de politiek, het bedrijfsleven en de artistieke wereld komen geregeld samen om ludiek te netwerken.
• Doelpubliek: 'Je moe geboren en getogen zien in West-Vlaanderen; je moe nog e moentje West-Vlams kunn'n klapp'n n in je werksekteur moe je etwat te zeggen en op kulteur, politiek, sociaal of industrieel vlak.'
• Wat? Een netwerkidee dat mensen samen brengt om elkaar 's ochtends te ontmoeten met een kopje koffie. Gratis en vrijblijvend, zonder commerciële bedoelingen.
• Doelgroep: Freelancers, zelfstandigen, managers en afgevaardigden van kmo's
• Wanneer? Goeiemorgen Limburg komt samen op de tweede en de vierde vrijdag van de maand.
• Regio: Hasselt en Genk
• Wat? Een ongebonden werkgeversorganisatie die in vertrouwen bedrijven wil samenbrengen, hun belangen wil verdedigen en ondernemingen wil versterken.
• Doelgroep: Bedrijfsleiders van middelgrote tot grote onderneming
• Regio: Limburg
• Wat? Al 30 jaar een prestigieuze ledenclub en dé ontmoetingsplek voor Vlamingen in Brussel. Activiteiten en evenementen worden meestal gekoppeld aan gastronomische hoogstandjes.
• Doelgroep: Bedrijven en ondernemende individuen
• Regio: Centrum Brussel
Zet in op netwerken & krijg meer klanten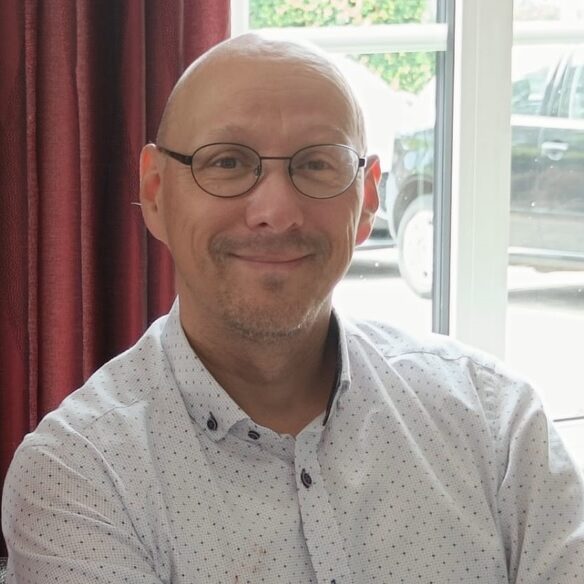 Welk netwerk past het best bij jou? Welke andere netwerken zijn er? Hoe kun je het meeste uit je netwerk halen? Wanneer blijft het niet bij goeiedag en een naamkaartje uitwisselen?
Micel Piedfort organiseerde tussen 2014 en 2020 maandelijks netwerkevenementen in Vlaanderen waar ondernemers elkaar gratis konden ontmoeten. Een goed netwerk is super krachtig en efficiënt om je business sneller te doen groeien.
Goed netwerken draait om jezelf goed omringen, onthouden worden, in de smartphone van mensen geraken door goede netwerkvragen te stellen en door zelf veel te geven. Daarna ga je krijgen. Hij deelt graag zijn ervaring en kennis met jou.
Welke andere netwerkevenementen in Vlaanderen zijn er nog?
Er zijn nog tientallen andere netwerkevenementen op basis van jouw interesses, regio en ervaring die bij je passen. Ontdek ze dankzij de loopbaancheque van de overheid met online begeleiding aan €10/uur en zet zo meer in op klanten vinden of jobs vinden via netwerken. Je hebt al 4 uur online begeleiding met de loopbaancheque van de overheid voor €40.
Beter Netwerken
Welk zijn jouw netwerkvragen?

Waar vind je die bedrijven

Voor zelfstandigen of werknemers met 7 jaar ervaring

4 uur online begeleiding voor €40

data in onderling overleg