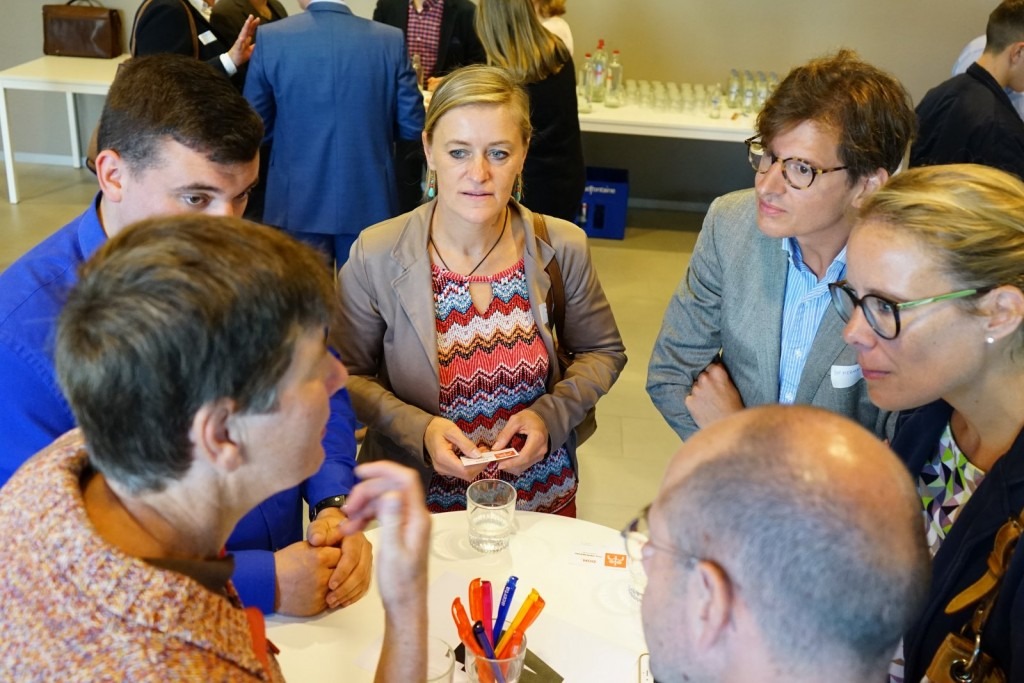 Mond tot mond reclame is de beste reclame die er is. Dat betekent dat iemand jouw diensten bij anderen in zijn netwerk aanbeveelt.
Het doel van netwerken is dan ook dat mensen uit je eigen netwerk je diensten in hun netwerk gaan aanbevelen zodat bedrijven jou spontaan gaan bellen.
Netwerken kun je overal. Er zijn speciale netwerkbijeenkomsten. Denk bijvoorbeeld aan de bijeenkomsten van Unizo, Voka, Open Coffees maar ook op congressen, informele bijeenkomsten van de school of in de kantine van de voetbalploeg kun je netwerken.
Samenwerken
Het belangrijkste element van netwerken is dat ondernemers samen komen die bereid zijn elkaar verder te helpen en niet alleen hun product of dienst proberen te verkopen. Niet alleen netwerken maar ook samen willen werken.
Focus op relatie: van contact naar contract
Concentreer je niet teveel op de opdracht of verkoop maar focus op de relatie.
Ga niet alleen naar een netwerkevenement met het idee dat je er veel opdrachten uit kunt halen. Als je deze insteek hebt, dan zien mensen je al snel als een verkoper.
13 Tips om beter te netwerken
Kom altijd op tijd. Zo zie je heel wat mensen toekomen en geef je de andere mensen de gelegenheid om jou goeiedag te komen zeggen.
Spreek de organisator aan en vraag hoe het werkt. Kom je ergens de eerste keer, spreek de organisator dan gerust aan en vraag naar de werkwijze van evenement. Bedank de organisator bij het buiten gaan. Probeer er voor te zorgen dat de organisator jouw naam onthoudt. Het is zijn feestje en zijn netwerk. Wellicht kent hij de mensen dan ook het beste en kun je het meest van hem te weten komen.
Stel jezelf een doel. Waarom ga je naar dit netwerkevenement?
Lopen er potentiële klanten rond? Spreek dan met jezelf af hoeveel vervolggesprekken je minimaal wilt scoren.
Ben je je markt nog aan het verkennen of zoek je partners? Probeer dan vooral zo veel mogelijk informatie te verzamelen en onthouden.
Of zoek voor jezelf een vraag waarbij andere mensen je kunnen verder helpen.
Zoek voor jezelf goede netwerkvragen. Iedereen op een evenement zoekt klanten en probeert met andere mensen in contact te komen. Maar niet iedereen heeft zin om telkens opnieuw naar een verkooppraatje te luisteren. Zoek daarom elke keer naar een goede netwerkvraag. Als je een goede vraag hebt, dan zullen je gesprekspartners ook na het evenement nog aan jou aan het denken zijn. Bv: de man van Algida.be zoekt een geschikte locatie voor een evenement van 50 mensen in Antwerpen.
Stel vragen aan mensen, toon interesse. Je kunt maar iemand helpen door eerst te luisteren en oprecht interesse te tonen. Vraag wat hem kan helpen om zijn zaak een boost te geven en ga bij jezelf na met wie jij hem in contact kunt brengen.
Bereid je voor. Check of er een aanwezigheidslijst van de deelnemers op voorhanden voor handen is en bekijk die op voorhand. Ga na welke gerichte vragen je aan iemand kunt stellen.
Naamkaartjes uitdelen: als je met veel mensen op korte tijd praat, dan is een naamkaartje echt geen overbodige geheugensteun om personen en bedrijven achteraf makkelijker te onthouden. Vraag nav een gesprek naar het naamkaartje van je gesprekspartner. Hij zal dan wellicht ook naar het jouwe vragen. Vraag tegelijk ook of hij aanwezig is op sociale netwerkwebsites zoals Linkedin en stel voor om ook daar te linken.
Info opschrijven: Noteer op de achterkant van het naamkaartje zo snel mogelijk wat je gesprekspartner zoekt of hoe je hem kunt helpen.
Opvolgen: Volg binnen de 24 uur je nieuwe contacten op. Mensen zijn je zo weer vergeten. Stuur hen een niet-commercieel bericht via e-mail of volg op via Linkedin. Op Linkedin ziet men tegelijk je foto nog eens.
Eet en drink met mate. Heb je al eens geprobeerd om tegelijk een kopje koffie en een koffie koek vast te houden en dan een hand te geven als iemand met jou wil komen praten. Op tal van bijeenkomsten is er drank en zijn er hapjes. Je gaat niet naar een bijeenkomst om je maag rond te eten. Het enige voordeel voor jou als je mond constant vol met eten zit, is dat je zelf niets kunt zeggen en verplicht bent om te luisteren naar je gesprekspartner. Maar inpikken op wat hij gezegd heeft, wordt bijzonder moeilijk.
Blijf niet te lang praten met dezelfde persoon. Op een netwerkevent komt men vooral om nieuwe mensen te leren kennen en om heel even goeiedag te zeggen tegen bekenden. Je kunt dus perfect na een 5-tal minuten een gesprek afronden met "Ik vind het heel leuk om met je door te praten, maar ik wil vanavond nog wat andere mensen spreken. Zullen we kaartjes uitwisselen?" Ook belangrijk is dat je voor een positief besluit zorgt. "Hartstikke interessant wat je doet, weer wat geleerd!" en sluit af met een handdruk en een glimlach. En hou het allemaal gemeend. Je gesprekspartner zal het je echt niet kwalijk nemen als je ook nog met andere mensen wil praten.
Vermeld de naam van je gesprekspartner een paar keer. De namen van nieuwe mensen onthouden of van buiten leren is niet altijd eenvoudig. Zorg er daarom direct voor dat je begint met de naam voor jezelf in te prenten door hem regelmatig in het gesprek te benoemen. Op heel wat evenementen dragen mensen een naambadge. De naam staat dus echt voor je ogen. Het vermelden van de naam komt bij de ander ook sympathieker over dan dat je helemaal geen naam zegt.
Hang je naamkaartje (of badge) rechts. Als mensen je een hand geven, draait men ietwat naar de rechterkant en ziet men jou naam direct op het kaartje staan.