We beletten onszelf onbewust om te groeien in onze job. Je baas ziet het maar zegt het je niet. Je collega's weten het maar trekken zich het niet aan. En jij doet gewoon verder.
Net omdat niemand jou er attent op maakt dat je zoveel meer kunt, blijf je vandaag doen wat je doet. Je voelt je soms ongelukkig in je job, je ervaart wat stress en bent wel eens gedemotiveerd. Het hoort er bij, denk je dan. Neen, het hoort er niet bij.  In mijn sessie van loopbaanbegeleiding ga ik daarom actief op zoek naar jouw apen, jouw beren, je kippen, je spiegels, je paplepels en rode draden. Heum, jouw wat?
Ja, jouw apen, jouw beren, je kippen, je spiegels, je paplepels en rode draden zijn allemaal dingen die jij vandaag doet maar die jou eigenlijk in je job niet verder helpen.
Sterker nog, ze beletten jou om de job te krijgen die je wil. Zij houden je klein waardoor je minder kansen krijgt. Dat zegt loopbaanbegeleider Michel Piedfort.
Welke apen krijg je elke dag?
Welke verantwoordelijkheden neem jij er elke dag bij of krijg je in je nek gedraaid? De apen zijn alle taken die je uitvoert maar niet tot je oorspronkelijk takenpakket behoren. Heb jij apen? Zo ja, hoe ga jij er mee om? Hoe zorg jij er voor dat je geen apen meer krijgt zonder je baas of collega's teleur te stellen?
Welke beren kom je tegen?
Waar zie jij tegen op? Wat denk jij dat je niet kunt? Waar heb je een hekel aan? Dat zijn jouw beren.
Beperken deze beren jou in je groei naar iets beter? Ook dat pakken we tijdens de loopbaanbegeleiding aan.
Welke paplepels blijf je slikken?
Welke opvattingen heb jij van kindsbeen meegekregen en heb je voor waarheid aangenomen. Maar zijn deze opvattingen nog wel juist? Wij sleuren allemaal dergelijke opvattingen mee.
Tijdens mijn loopbaanbegeleiding ontdek je ze en ga je jouw mening herzien. Hierdoor zal je een enorme grote sprong voorwaarts maken.
Welke rode draad zie je niet?
Welke beslissingen heb je in het verleden zoal genomen? Waren dat goede of slechte? Welke patroon komt er altijd terug? Zie je geen patronen, dan zal ik als loopbaanbegeleider jou er op wijzen.
Die vastgeroeste patronen zijn eerder valkuilen waar je elke keer opnieuw onbewust in trapt. Het is pas als iemand je confronteert met de vraag waarom je iets doet, dat men grote ogen trekt en tot inzicht komt.
We zien het gewoon niet meer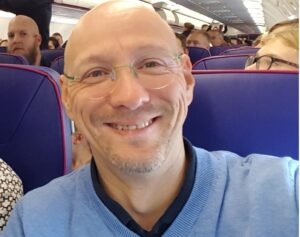 Omdat je baas er alle belang bij heeft dat jij gewoon doet wat je doet, zal hij je niet vertellen hoe het anders en beter kan.
Net omdat ik als loopbaanbegeleider weet waar mensen tegen aan lopen en actief op zoek ga naar jouw paplepels, beren, apen en rode draden, zal ik je ze ook kunnen vertellen.
Dat maakt loopbaanbegeleiding confronterend, het kan zijn dat jij jezelf er zelfs wat ongemakkelijk bij voelt. Maar tegelijk geeft het jou de gelegenheid om enorm als mens te groeien.
Enkele voorbeelden van beren, apen, paplepels waar mensen zich niet van bewust waren of wel wisten maar niets mee deden tot na de loopbaanbegeleiding
Ik vond bijvoorbeeld dat ik vroeger te weinig kansen kreeg. Ik legde eerst de schuld bij mijn baas en andere haantjescollega's. Pas later ontdekte ik dat mensen mijn kunnen onvoldoende zagen. Als je dat inziet, kun je hieraan iets doen.
Tijdens een sessie hoorde ik dat iemand telkens herhaalde dat ze een mes in haar rug kreeg. Later besefte ze dat zij veel te braaf was en veel extra werk aannam waarvoor ze afgestraft werd. Haar collega's bestempelden haar immers als lui omdat ze te veel tijd nodig had om haar werk af te ronden.
Toen iemand vertelde dat ze te weinig waardering kreeg op het werk en ik vroeg hoe ze op een compliment reageerde, was haar antwoord: o, dat is geen moeite. Het gevolg was dat haar baas geen complimenten meer gaf. Bij deze persoon zijn we gaan oefenen hoe ze beter kan tonen dat ze enorm blij is met het compliment.
Een hardwerkende manager voelde zich opzij gezet toen hij een promotie niet kreeg. Hij deed veel voorstellen naar het management om het bedrijf vooruit te helpen. Tijdens de loopbaanbegeleiding zag hij in dat zijn bazen het nut van al die voorstellen niet aanvoelden. Toen de man dit begreep, lag de nadruk van de loopbaanbegeleiding ineens totaal anders. Hij is zijn voorstellen op een andere manier gaan formuleren en kreeg wel succes.
Een vrouw ging in burn-out omdat zij vond dat zij nutteloos werk deed. Zij moest voorstellen uitschrijven waarmee achteraf niets gedaan werd, dacht ze. Wat zij niet zag, was dat zelfs afgevoerde voorstellen nuttig zijn geweest.
Ik had een andere vrouw die zeer ongelukkig was in haar job en veel stressklachten kreeg zoals spierpijn en nekpijn. Toen we haar taken van dichterbij gingen bekijken, bleek dat zij niet graag verslagen van vergaderingen uitschreef. Dankzij de loopbaanbegeleiding werd zij zich hiervan bewust. Ze vond de motivatie om dit bij haar baas aan te kaarten. Het resultaat was dat een andere collega de verslagen voortaan zal verzorgen.
Ook jij hebt apen, beren, paplepels en rode draden. Ik wil ze heel graag bij jou ontdekken zodat ook jij in je job kan groeien
Elke loopbaanbegeleiding is voor mij nieuw en totaal anders. Daar doe ik het voor. Ik krijg een enorme kick als wij samen ontdekken welke apen, beren, paplepels en roden draden jij hebt. Het resultaat is daarna dat je gelukkiger bent in je job, zelfzekerder overkomt, meer kansen krijgt en meer mensen in jou geloven.
Ik vind het leuk als mijn deelnemers zeggen: dat is een aap, dat is een beer, wat een paplepel, ... De oplossing voor het aanpakken van het probleem in je job, wordt daarna zoveel makkelijker.
Ik heb er enorm veel goesting in.
Succesrijke formule
Mijn aanpak geeft zeer goede resultaten. Dat blijkt uit de commentaren op Google Review waar ik gemiddeld een 4,7 op 5 scoor.
Ook VDAB gelooft enorm in deze aanpak. Daarom kan ik ook hun loopbaancheques aanvaarden waardoor je slechts 10 euro per uur betaalt (of 40 euro per cheque van 4 uur).
Wil je eerst vrijblijvend meer info, bel me 0486 329 020 of mail me voor loopbaanbegeleiding.