Voorbeeld cv's die meer tot lezen aanzetten
Je cv krijgt slechts 6 seconden aandacht. De lay-out van je cv wordt daarom zeer belangrijk. Wat zet je bovenaan, hoe zorg je er voor dat je cv opvalt.
Je vindt hier enkele voorbeelden van cv's die zeker opvallen tussen een stapel andere cv's.
Je cv wordt evenmin goed bekeken. Want de meeste recruiters drukken je cv niet eens af. Ze scrollen snel over het scherm omlaag. Opvallen is dus de boodschap.
Mijn vraag aan jou: Maakt jouw cv de lezer binnen 6 seconden duidelijk wie je bent, wat je kunt en wat jij kunt betekenen voor de onderneming?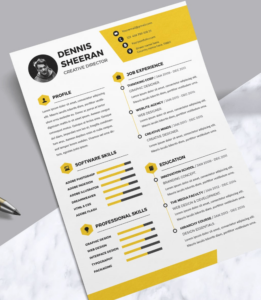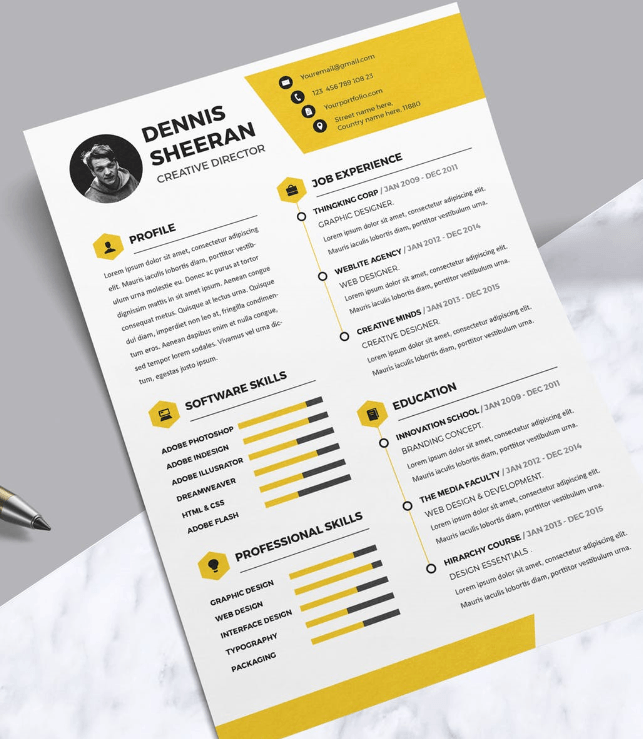 Tegelijk kun je het de recruteerders niet kwalijk nemen als hun aandacht verslapt als ze een stapel van 50 cv's per vacature moeten doorworstelen.
Deze cv trekt extra aandacht gewoon door de vormgeving en kleur. Is jouw cv vandaag een opsomming van je ervaring zonder aandacht voor de lay-out?
Durf jij al te experimenteren met lettertypes en kolommen?
Denk eens na of je de cv echt met je persoonlijke informatie moet beginnen? Durf jij te beginnen met wat je zoekt in plaats van met wie je bent?
Spelen met kleur en lettertypes
Door te spelen met kleuren, lettertypes en kolommen nodigt de moderne cv meer uit tot lezen.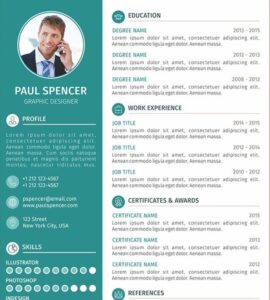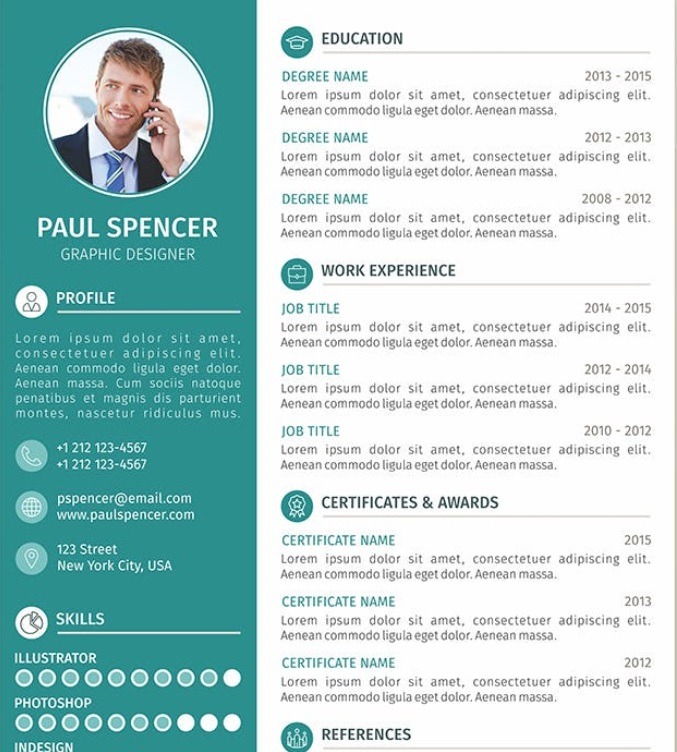 Een foto, overzichtelijk profiel en software kennis samen met een overzicht van de werkervaring, de voorbeeld cv van Paul heeft het allemaal.
Paul heeft zelfs onder zijn naam zijn titel gezet. Het is hier meteen duidelijk wat zijn ambitie is.
De cv hebben ook een profieltekst. In de profieltekst staat meer informatie over wie je bent of hoe andere collega's je ervaren.
Welke informatie zet je bovenaan in je cv? Moet je cv met je adresgegevens beginnen, met je werkervaring of je studies?
Voor je cv zijn er geen verplichte richtlijnen. De belangrijkste informatie zet je best bovenaan om zo snel mogelijk de aandacht te trekken.
Welke cv past het beste bij jou?
Wat zet jij nu best wel of niet in je cv? Dit is voor iedereen anders. Zo raad ik sollicitanten aan die vrezen omwille van hun leeftijd afgewezen te worden om hun geboortedatum onderaan hun cv te vermelden en niet bovenaan.
Tijdens de loopbaanbegeleiding wordt hier uitvoerig op ingegaan. We bespreken daar enkele cv's.
Wie voor cameraman solliciteert, zal wellicht een cv in een filmpjes versie maken. Een kleuterjuffrouw kan haar cv heel anders opvrolijken dan een algemeen directeur.
Hulp bij cv maken
Wil je hulp met het maken van een persoonlijke cv, neem dan loopbaanbegeleiding. Je gaat samen met je loopbaanexpert van Algida na wat je competenties zijn en hoe je die best verwoordt in je cv. Je brengt mee: je cv en de vacatures waarop je wil reageren.
(Online) begeleiding
Benoemen waarom jij de beste kandidaat bent

Overtuigen hoe jij qua persoonlijkheid matcht

4 uur (online) begeleiding

Voor werknemers vanaf 7 jaar ervaring

Je woont of werkt in Vlaanderen

Data in onderling overleg

Start na ontvangst loopbaancheque