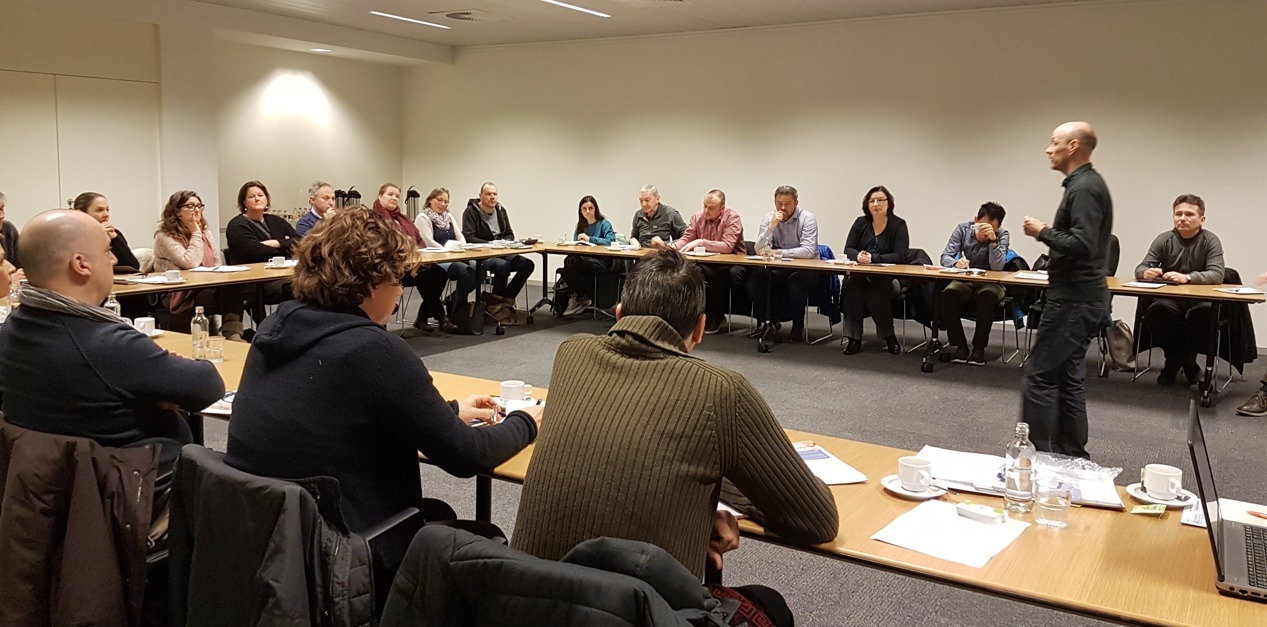 Blijf efficient werken (z)onder stress ondanks stijgende werkdruk of deadlines en zonder lichamelijke klachten
Wil je ook werken zonder stress? Contacteer mij dan meteen en vraag een gratis vrijblijvend gesprek. Meer dan 1.250 begeleidingen in 2022
Gratis webinar
vrijdag 23 december van 12u00 tot 12u30
vrijdag 30 december van 12u00 tot 12u30
Voor iedereen die stress ervaart en hier vanaf wil.
Heb jij (te) veel stress?
Doe de gratis sneltest. Je mailadres hoeft niet om het antwoord te zien.
Hoe vaak heb jij de volgende lichamelijke klachten?
Wat zijn de gevolgen van ongezonde stress? Hoe herken je het?
Je herkent ongezonde stress vooral aan vage lichamelijke klachten zoals extreem moe. Je lichaam is moe terwijl jij nog vol energie zit om door te gaan. Ook hoofdpijn, piekeren of slecht gezind zijn komen vaak voor omdat je altijd achter de feiten holt.
We denken dan vaak dat het probleem tijdelijk is of vitaminen tekort hebben. Helaas is dit niet zo: het is je lichaam dat schreeuwt: ik ben moe terwijl jij eigenlijk nog wel wat energie hebt om door te werken.
80% van wie ziek wordt van stress, gaat nooit meer terug terwijl burn-out en ziektestress eenvoudig te vermijden is. Men is de job dus kwijt voor altijd. Wie door stress onderuit gaat, is bovendien gemiddeld 9 maanden afwezig. Dit kost dus zowel aan de werkgever als aan de werknemer veel geld.
%
beaamt: was te vermijden
Beter slapen, geen gepieker, minder moe, meer focus op het werk met stresspreventie
Wie krom staat van de stress werkt niet beter. Integendeel: men raakt geïrriteerd, maakt fouten en verliest het vertrouwen omdat beloftes niet nagekomen worden.
Daarom is het zo goed als je wél kunt werken zonder stress. Je kunt kalm blijven zelfs in crisisperiodes of bij deadlines omdat stress geen vat op je heeft. Je straalt dit ook uit naar de mensen rondom je waardoor je een fijnere collega bent. Tenslotte ben je veel beter gezind. En zeg nu zelf: we zijn gewoon liever bij blije mensen dan bij klagers & zagers.
Kortom: wie kan werken zonder stress, maakt werken opnieuw plezant in plaats van irritant.
Waarom kiezen voor Michel Piedfort bij stresspreventie?
Michel Piedfort is 52 en legt op heel eenvoudige manier uit waarom jij last hebt van stress, hoe je beter naar je lichaam luistert zodat je de rode vlaggen herkent en reikt oplossingen aan zodat je de valkuilen vermijdt. Deze oplossingen probeer je dan uit tegen de volgende keer en worden achteraf besproken. Dankzij deze bewustwording word je een ander mens en heeft de begeleiding op korte termijn al resultaat.
Door zijn jarenlange ervaring in het bedrijfsleven duidt hij ook waarom werkgevers reageren zoals ze doen en hoe jij hierop best reageert.
Hij studeerde handelswetenschappen en marketing. Daarom bekijkt hij jouw job ook vanuit een management en marketing hoek. Hij doet je inzien dat stijgende werkdruk en deadlines niet ten koste hoeven gaan van je gezondheid omdat dat je perfect in balans kunt blijven met makkelijke technieken. Je hebt maar 1 leven en elke dag is een streep minder op jouw tijdslijn. Waar kies jij voor? Werken onder stress of werken zonder stress?
Wat zou het voor jou betekenen als je kunt werken (z)onder stress?
Welke voordelen heb jij als je kunt werken (z)onder stress? Wat kun jij dan allemaal meer doen? Hoe zou jij je dan voelen? Als je hier graag hulp bij wil, dan begeleid ik jou hier bij.
Ga werken (z)onder stress
Persoonlijke begeleiding
Hoe werken (z)onder stress - technieken

Voor werknemers & zelfstandigen

Je woont of werkt in Vlaanderen

Data in onderling overleg

Start na ontvangst loopbaancheque
Inhouse Workshop
Wat is ongezonde werkstress en hoe herkennen?

Wat kan werknemer zelf doen om stress te verlagen?

Zelftesten, training, oefeningen & materiaal
Start met werken (z)onder stress. Stel hier je vraag