Buikpijn, hoofdpijn, steken in de borst of spierpijn. Herken jij het? Deze klachten kunnen het gevolg zijn van te veel werkdruk of stress
Hoofdpijn is een van de meest voorkomende klachten bij werkstress.
We nemen dan vaak een pijnstiller en hopen dat de hoofdpijn daarna weer overgaat. Toch kun je beter even stoppen met werken en naar buiten gaan om een frisse neus te nemen.
Schrijf op wanneer jij hoofdpijn krijgt. Wat was je toen aan het doen? Hoe lang heeft deze hoofdpijn geduurd? Heb je iets gevoeld enkele minuten vooraleer de hoofdpijn begon. Je kunt zo ontdekken hoe je die hoofdpijn kunt vermijden.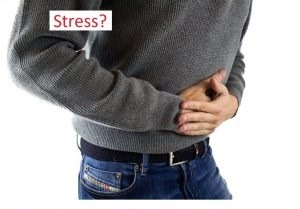 Ook krampen of buikklachten zijn een typisch signaal van stress. Wanneer de stress erger wordt, ga je vaak het werk moeten onderbreken en loop je automatisch naar het toilet.
Je lichaam zegt: ik moet hier even weg. Ook hier ga je best het patroon van de buikklachten proberen te ontdekken door ze op te schrijven. Want hoe erger de stress wordt, hoe minder duidelijk het zal zijn, waarom jij deze klachten krijgt.
Nog 40 andere klachten kunnen werkstress verklaren
Naast hoofdpijn, buikklachten, steken in de borst zijn er nog tientallen andere symptomen die een te hoge werkdruk kunnen verklaren.
Daarom kun je bij ons jezelf regelmatig testen zodat je de evolutie van je stress perfect kunt opvolgen en van je werkstress vanaf kunt geraken.
zit jij in het rood, dan kun je niet veel extra stress meer verdragen
zit je in het groen, dan kan je nog heel wat extra werkdruk aan
Wie in het rood zit, zal als hij zijn klachten bekijkt, automatisch proberen om dat stressniveau omlaag te krijgen. Daarom krijg je na de stresstest ook een lijst van werkpunten mee.
Waarom pak je werkstress best meteen aan
Waarom werkt een citytrip maar tijdelijk om van je werkstress af te geraken?
Stress verminderen met gratis stresstest
De stresstest is gratis. Je kunt hem zo vaak invullen als je zelf wil. Zo kun je op elk moment vermijden dat je ziek wordt van de stress.
Stress gaat vanzelf niet weg
Werkstress gaat niet vanzelf weg. Schakel daarom professionele hulp in. Je krijgt minder pijnklachten, je ervaart minder frustraties en wordt positiever ingesteld. Hierdoor zullen de stressklachten verdwijnen.
Wie wenst, kan persoonlijke begeleiding krijgen via de loopbaancheque van de overheid. Je betaalt dan slechts 40 euro voor 4 uur begeleiding.
Ga van stress naar happiness.
Stress verminderen met loopbaanbegeleiding
Van werkstress kun je makkelijk af geraken eens je weet wat de dieperliggende oorzaken van die stress gaan zijn. Ik leer je anders met stress om te gaan door:
je eerst bewust te maken hoeveel werkstress jij ervaart door stress te meten
je uit te leggen waarom jij stress ervaart. Dit is zoekwerk en nagaan hoe jij werkt en op situaties reageert
handvaten en tools te geven om je werkstress te verminderen.
Bij werkstress zijn er vaak meerdere factoren die je stress bepalen. De oorzaak van je stress ligt meestal niet bij de file, het computersysteem, de vervelende klant, ... Het zit net iets dieper. Eens je deze dieperliggende factoren kent, wordt het echt veel makkelijker om je stress in stukken te hakken.
Bel me vandaag nog voor meer info op 0486 329 020 of mail: michel@algida.be