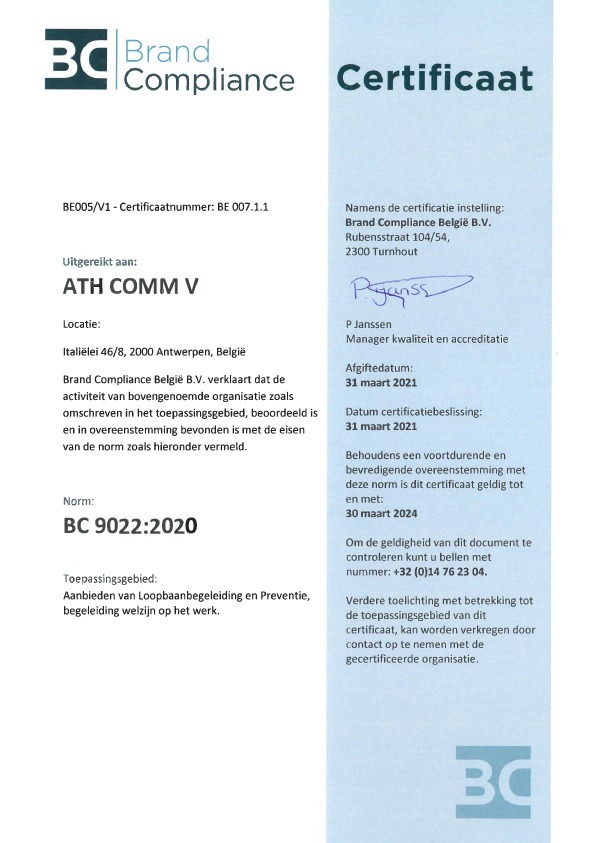 ATH, het bedrijf dat de merken Algida loopbaanbegeleiding en TestjeWerkStress.be commercialiseert, heeft het WSE kwaliteitslabel van de Vlaamse overheid gekregen voor het aanbieden van diensten rond welzijn op het werk, preventie en loopbaanbegeleiding.
Het BC9022 kwaliteitslabel gaat specifiek over dienstverlening op vlak van opleiding en vorming, begeleiding, arbeidsbemiddeling, competentieontwikkeling en adviesverstrekking.
BC 9022 Kwaliteitslabel
Vanaf september 2019 legt het beleidsdomein Werk en Sociale Economie kwaliteitsvoorwaarden op aan dienstverleners die diensten willen leveren aan werkzoekenden, werkenden en of organisaties die hiervoor indirect of direct financiering aanvragen via het beleidsdomein WSE.
Met het behalen van het BC 9022 WSE Kwaliteitslabel voldoen wij aantoonbaar aan deze voorwaarden. Testjewerkstress.be komt voortaan ook in aanmerking voor de werkbaarheidscheque waardoor je als bedrijf tot 60% subsidies krijgt om werkbaar werk te promoten, scannen, onderzoeken, een beleid op te zetten of mensen te ondersteunen.
Erkenning van streven naar kwaliteit
Ik ben enorm blij en trots met de toekenning van die kwaliteitslabel, zegt Michel Piedfort van Algida. Het toont aan dat we aan de kwaliteitsvereisten die de overheid oplegt voldoen.
Tegelijk is dit een geruststelling voor bedrijven en coachees die van mijn diensten gebruik maken dat we met dezelfde inzet en gedrevenheid verder blijven gaan en hierop blijven inzetten.